**SOLD**
Hey guys, I've been lurking on here for a few months now gathering enough info to build my own TD and I'm about 2 weeks away from driving the first screw! I designed this trailer to be light enough to tow behind my 97' Subaru Outback, be practical and worthwhile, and have a small budget. The design is based off the Benroy plans at the top of the forum but customized slightly. Firstly, there will be no rear hatch. I've read a bunch of build journals and thought heavily about how it would be to have a kitchen galley with us when we camp. Were not hardcore campers and we don't usually go for more than 3 days. We always have our pop up tent canopy that is fully enclosed that we all store our food, coolers, tables, etc. in so there really is no need for the galley. Also, I wanted as much interior room as I could get because my wife thinks this will be like sleeping in a coffin.
So the bigger inside the better. On to the design...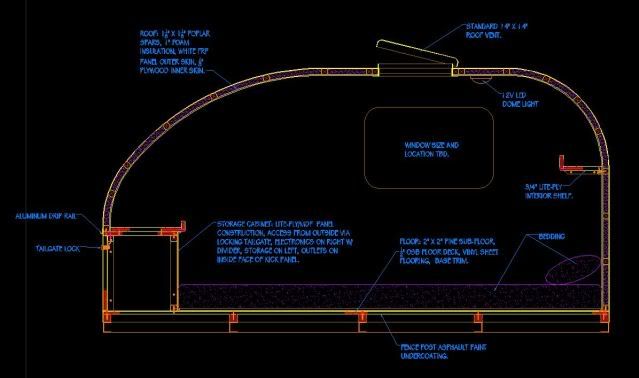 You can see the profile is very similar to the Benroy but where the hatch would be is an interior shelf and a tailgate on the outside that opens to a storage compartment where we can store the camping essentials and the battery and electrical (though I'm considering putting the electronics in a tongue box).
The construction will be a floor assembly made of 2x2 pine strips with a 1/2" OSB floor deck, undercoated with asphalt paint, and covered with vinyl flooring. The walls are 3/4" AC Fir plywood, no insulation as we only camp from about April to September. The roofing will be 1 1/8" Poplar spars, 1/8" Lauan plywood interior skin, and 1 layer of 1/8" Lauan with white FRP exterior skin. The inside will be painted with exterior grade paint and the outside will be sealed and painted white.
Working at a large architectural woodshop has helped a ton as I'm only the 2x2 pine strips and a sheet of OSB away from being able to construct the entire thing and I haven't spent a dime (less FRP, paints/primer/sealer, moldings, etc.). All I'll need is a trailer and all of the stuff your typical woodshop wouldn't have. I'm going to start building this on a 2x12 frame until I can afford a 4x8 trailer to put it on. But in the meantime I'll get everything else done and ready to go on.
I have more pics from the AutoCAD drawing but I forgot to put them on my jump drive so I'll load them up next week. And hopefully I'll be able to start on it next weekend!!!!1