Newbie, but been lurking for a couple of years (read the big Thrifty thread from start to finish back when it was 175 some odd pgs.)
Introduced myself here
http://tnttt.com/viewtopic.php?t=48629
with my first (and long winded) post.
Here are some images of my design, sort of a rimple, meets canned ham in a TD size (I guess it's a Benroy?). 64 inch outside (60+ inside, queen size) x
9'-8", plus a skotch, length at the floor (82" cabin inside length)
with a little overhang for the curvature of the rear hatch. Slight curvature throughout the roof. Windows in the doors will be Hehr flush mount with tip out screened bottom section and fixed upper (my first purchase for the tear

Went looking for window radius dimensions and came across what I considered to be the ideal window at a fair price for new). Length just kept growing until I could fit my cooler on slides lengthwise under the galley counter.
Frame will be custom built to suit. I have plenty of welding experience, including TIG, and my best friend owns his own fabrication business with a 32x40 two story modern barn on his property where he has invited me to build.




Also where I built my first trailer, a double dropped axle car hauling flat bed (sold the BBC 67 SS clone Chevelle, but managed to finish building the hauler, oh well, pics of that later). Axle placement has been preliminarily worked out using Angib's guidelines, but may be refined when I start getting the camping gear weighed and storage locations worked out (flexibility in placing battery, spare tire will be same as Jeep, shared, mounted in Jeep std location on tailgate). Axle will be under the leaf springs and 15" rims with 31" tires matching Jeep. Galley counter height will work good for me (I'm 6 ft) but maybe a little high for the wife. Will most likely have picnic table in camp, and it just worked out that way in order to get the cooler on slides and still clear the counter support rail, while keeping the modest off road frame clearance that I have planned for (IIRC the galley counter will be 36" above level ground).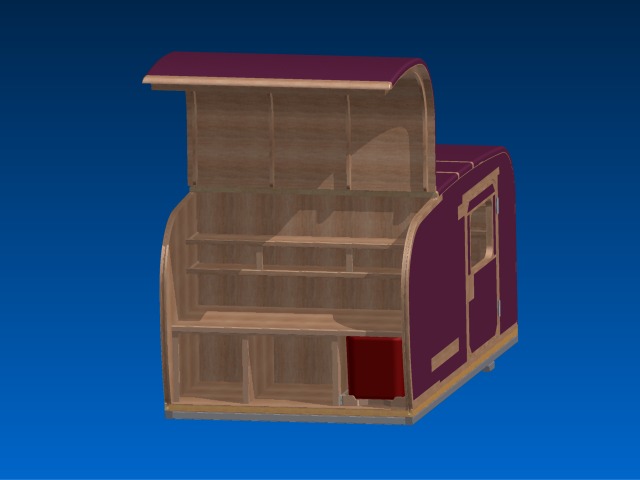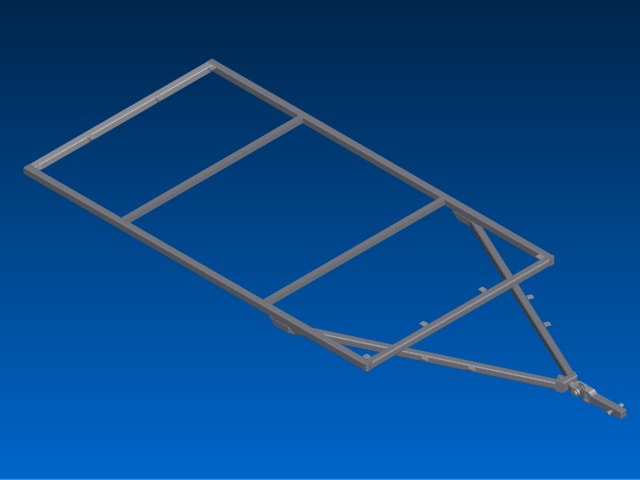 The coupler depicted is my own custom design offroad style swivel joint, but may be simplified to a std 50 deg 2" coupler (tongue rails are at 50 deg so I can go either way).
The cabinet let into the front wall is hardwood (maple or poplar) and extends into the tongue box far enough to allow "sporting goods" (emergency bear repellent) to be stored securely, but the front section that is accessible from outside is foam for light weight and support equipment storage; perhaps 12V marine battery depending on weight distribution. The inner and outer sections of the cabinet/tongue box are divided by a plywood bulkhead. Where the wood extends past the foam wall it is mitered so that it slopes down (biscuit joined 1x). I'm a little bit concerned that flex between the tongue and main box will put stress on this thru wall joint, so feel free to make suggestions if you have a better idea.
(Edit 2/16/12) The floor is 1/4" (3/16) luan sandwich over a frame of 1x2 (3/4" x 1-1/2" on edge) and 2x2 (1-1/2" x 1-1/2" at perimeter and skin butt joints) with 1-1/2" insulation. (end edit).
I wanted the edges of the galley walls to be able to take some abuse so there will be laminated (or if I chicken out, jointed segment and routed) arched rails glued on prior to covering. Bottoms of the walls will be 1-1/2" (2x) square to give a good screwed joint to the floor and to provide some rigidity to the foam core during handling at construction (maybe overkill). There is a little bumped up section of wood on this rail at the back curb side to beef up where the cooler slide screws to the bottom of the wall.
I started the design in a traditional construction, but then fell into the clutches of GPW, Eaglesdare and the big Thrifty thread, did a near complete redesign, but wanted to retain the wood interior. So the inside walls and headliner will be luan or birch ply. Cabinets in 1x. No cabinet doors modelled yet, may not bother at first to get campable, may not bother at all. Bulkhead is 1/4" (3/16) luan over 3/4 foam and 1x frame work. Side walls are 1-1/2" foam. (I will have to get you guys a photo of the Dow factory yard merely a stones throw over the hill from me; Blue foam board by the truck and train load. Yet my local BBox stores have pink; cold here in winter.)
I intend to build the floor and walls and then form the ceiling headliner over the walls (may need to build temporary support structure) then cap that with 1-1/2 kerf cut foam, or maybe two layers of 3/4". This way the ceiling membrane will be tied through the corner joints of the wall-to-ceiling joint, foam glued to wood glued to foam, which I have read is the stronger glue joint than foam to foam, IIRC.
All for now, what do you think? I am open to all opinions.
The frame as shown is not quite complete; there will be some gusset plates to mount the landing gear, once I decide on the final brand/style and get them in hand to confirm dimensions.
I am not going for super light weight (needs to be rugged enough for some modest offroad and be able to haul plenty of camping gear, CI, (and some guns), but I will try not to over build out of ignorance (I have a mechanical engineering background, so that should help here). It probably will not be especially thrifty either since I do not want to spend a bunch of time chasing materials, and would like to maintain a certain level of quality (undefined... not ultra fine quality, but I want a certain peace of mind on materials and fit-and-finish).
Still have a few design elements to model before creating shop prints and getting started in the shop, plus it is cold here.
"Bear" with me, I don't know how big this thing gets, but I think I'm hooked.

KC
Poet Creek Or Bust