This is my first build it is a prototype/test bed. I am using it as a learning experience for the build. All advice, warnings and suggestions are welcome and appreciated

It will be used as a trial for short and long road trips, and different camping/RVing situations.
My biggest issue is I don't know what I want in a small travel trailer. I know I will not figure it all out until I get out there and start camping and travailing. My outdoors living background is backpacking, canoe river camping, and drive-up tent camping I have way too any questions about what I need/want to list here, but my plan is to start simple (maybe too simple

) and add stuff as I go. I'm not working from any plans just a quick sketch and the ever changing picture in my head but its going good so far. As far as my building ability I am fairly confident I can handle this build. The stuff I build usually does the job intended, rarely falls apart, and sometime looks pretty good

.
The Idea here is a inexpensive TTT to try out idea and learn from. If I get 2 good years out of it I'll be happy
I am trying my best to keep to the K. I. S. S. principle. My base is a harbor freight 1175lb. trailer (new). The design is what I think is called a square back/flat back. My tow vehicle is a 2007 Honda Civic.
My criteria for the build:
1. Cheap --- As much as possible I'm using what I have on hand, lying around, or can scrounge up/craigslist.
2. Cheap --- After reading some Foamie posts around here I might have tried one but I'm just more comfortable working with wood to start.
3. Light --- 2007 Civic
3a. Limit leaks --- (lets face it something is going to leak (ie. window, door) I just want to avoid sleeping in a puddle while water drops tap me in the head) looks like I'm going to try painted canvas here (learned this from a cool new forum I joined)

4. Some thought to aerodynamics --- Front top curve its not much but better than a shoe box. by the way is there a name to this part? If it were a boat I would call it the "prow", or if a trailer has a tongue this would be the "forehead?"
5. Cheap --- Who am I kidding I'm poor.

If I want any money to travel the rest of this year I'm going to have to keep this budget to a bare minimum.
So far I put together HF trailer (left off tongue, lights, and fenders for ease of access). Bolted down 1/2in. pressure treat ply as sub floor. Cut out and dry fit all of the outer shell. I'm using 3/8in. sheathing for inner floor and everything else accept Luan for curve in forehead
. Structure is very solid as it was in photos. Since photos I have taken it apart cut out rough opening for windows (STORAGE SHED Windows 14x21) and it is ready for adjustments and permanent assembly.
Also since I have never tried painted canvas before I mad up a test piece (with curve, seems, and window cut out) to try it out. Titebond II worked great with old sheets (old sheet is what I got). I should get paint on it this week.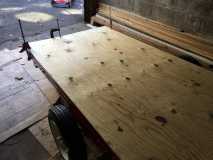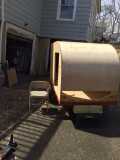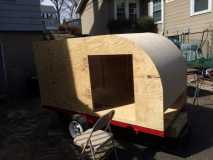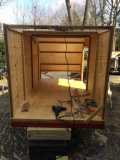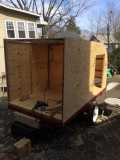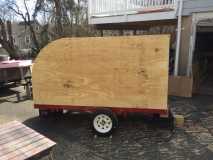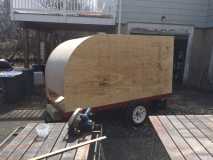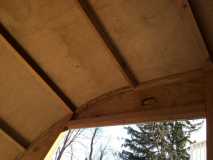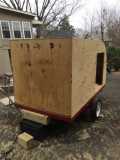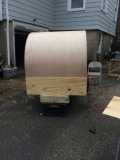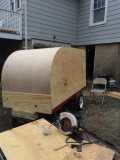 Painted canvas Test