Vintage Styled Teardrop Camping Trailer-RV. For sale, $26,500 obo

;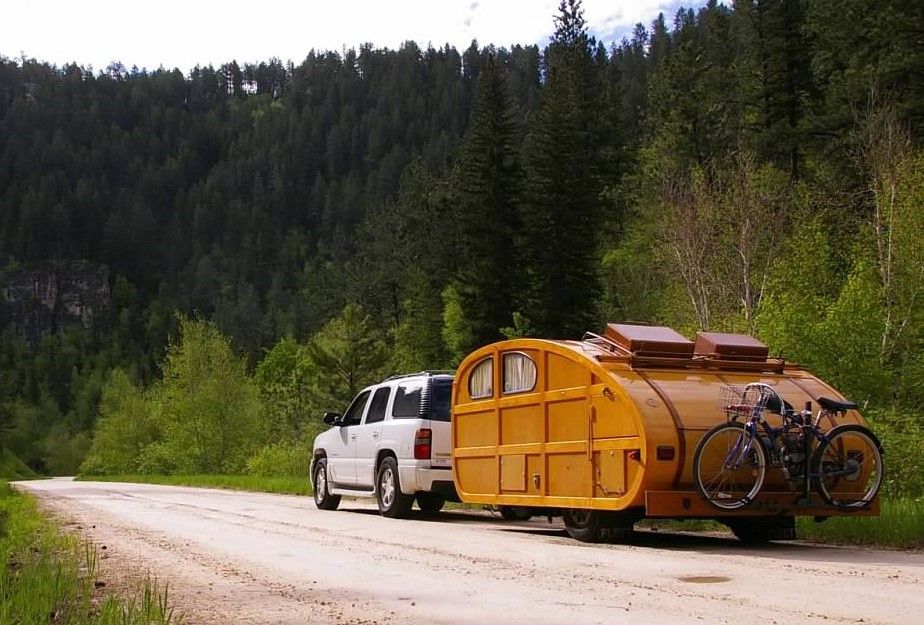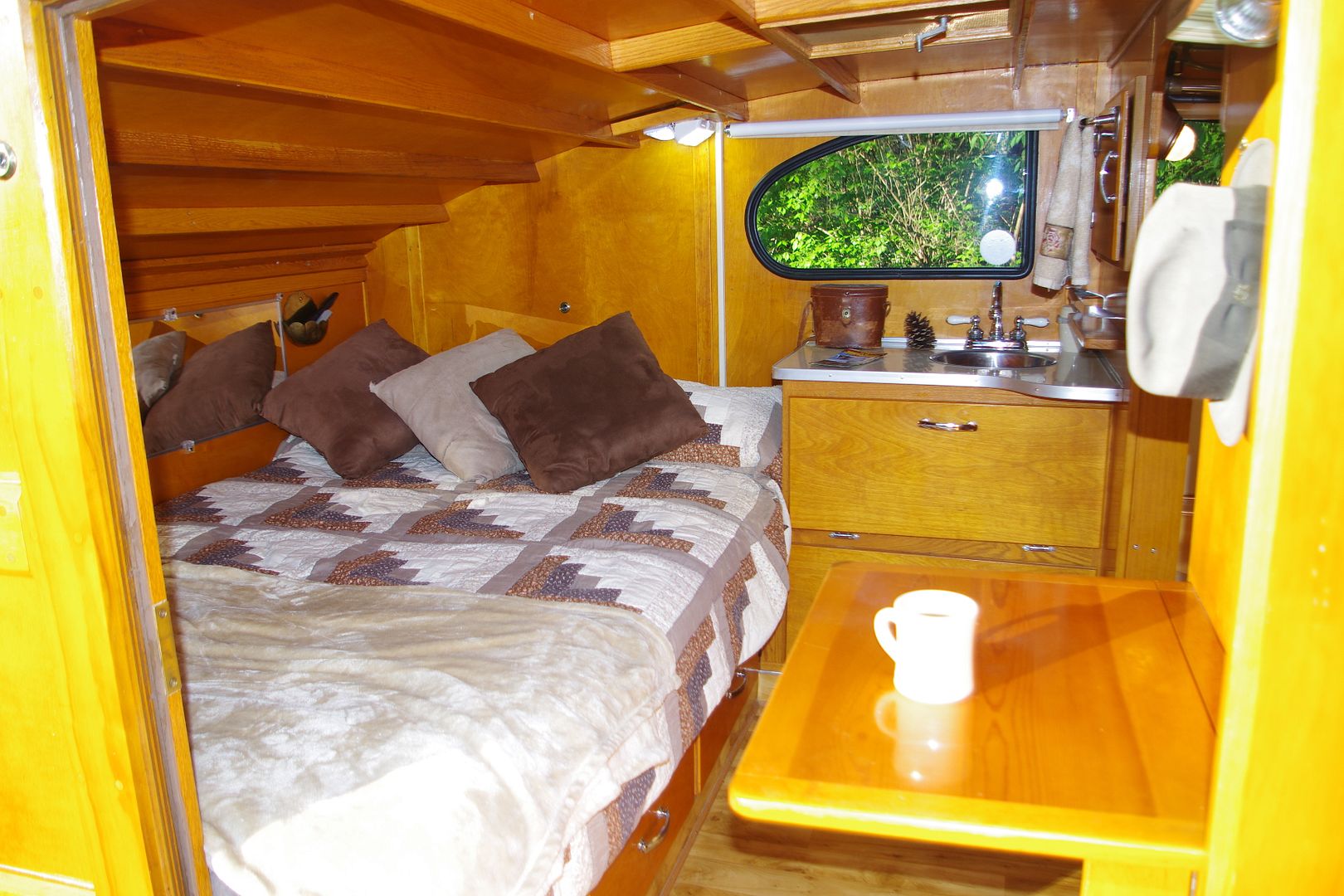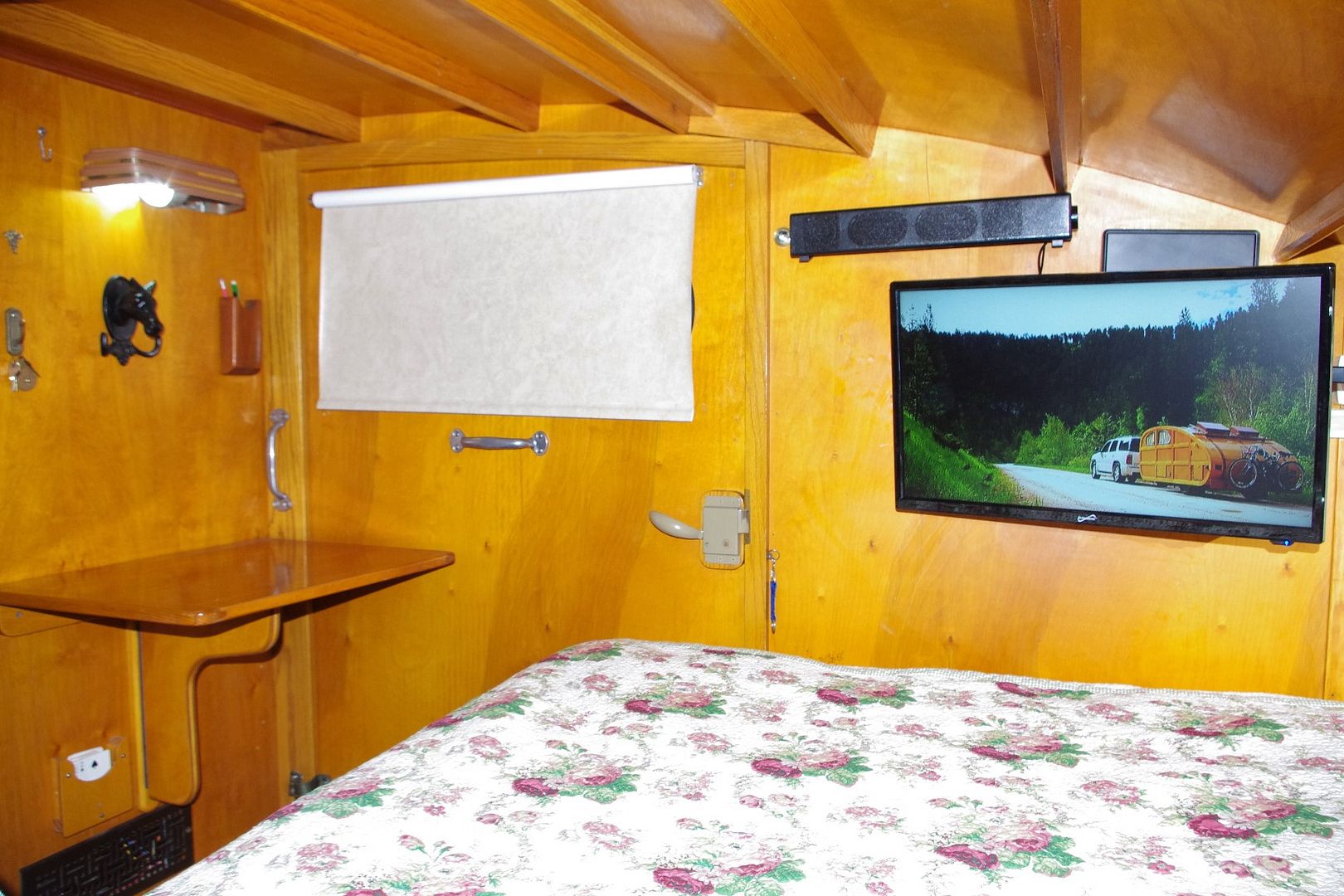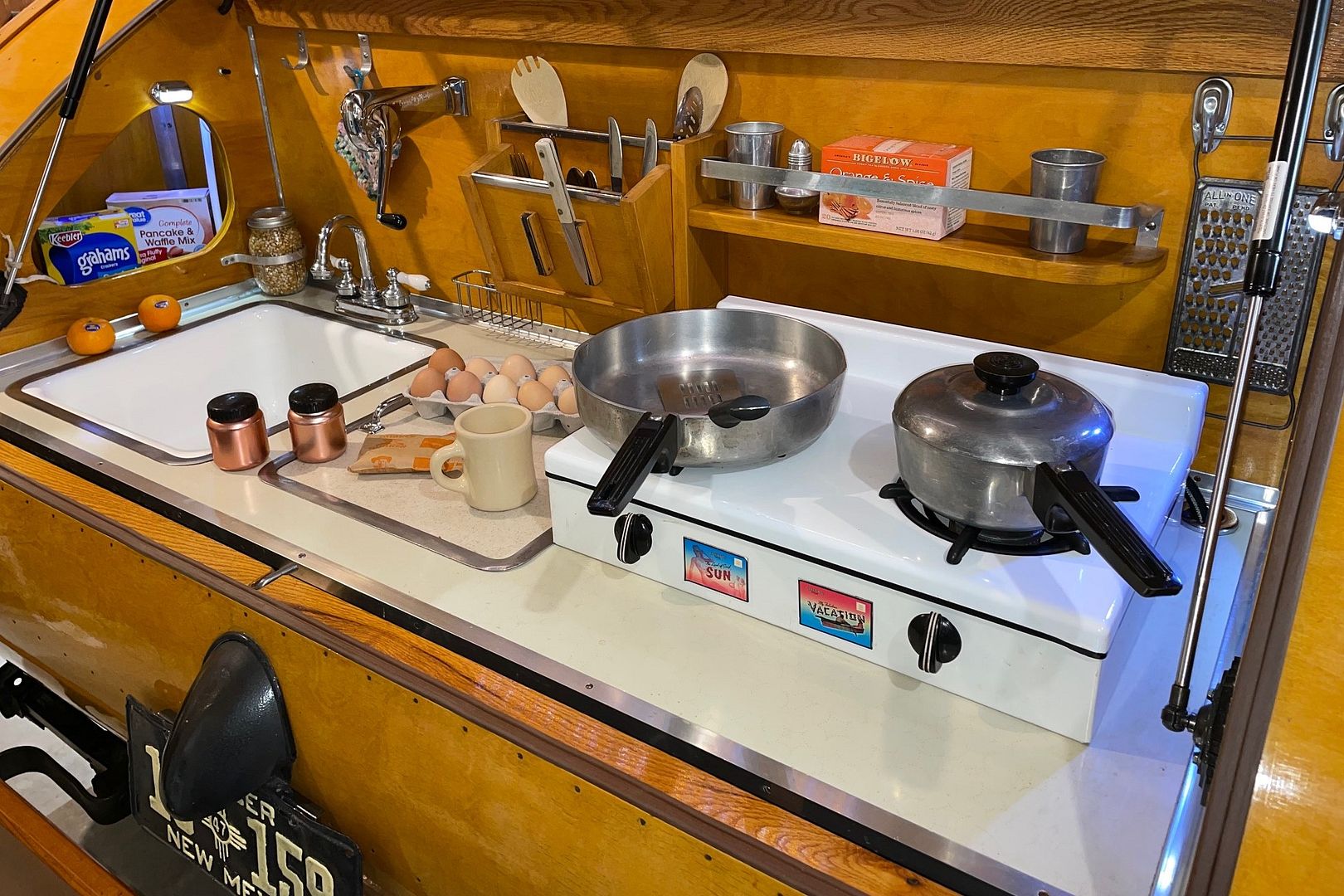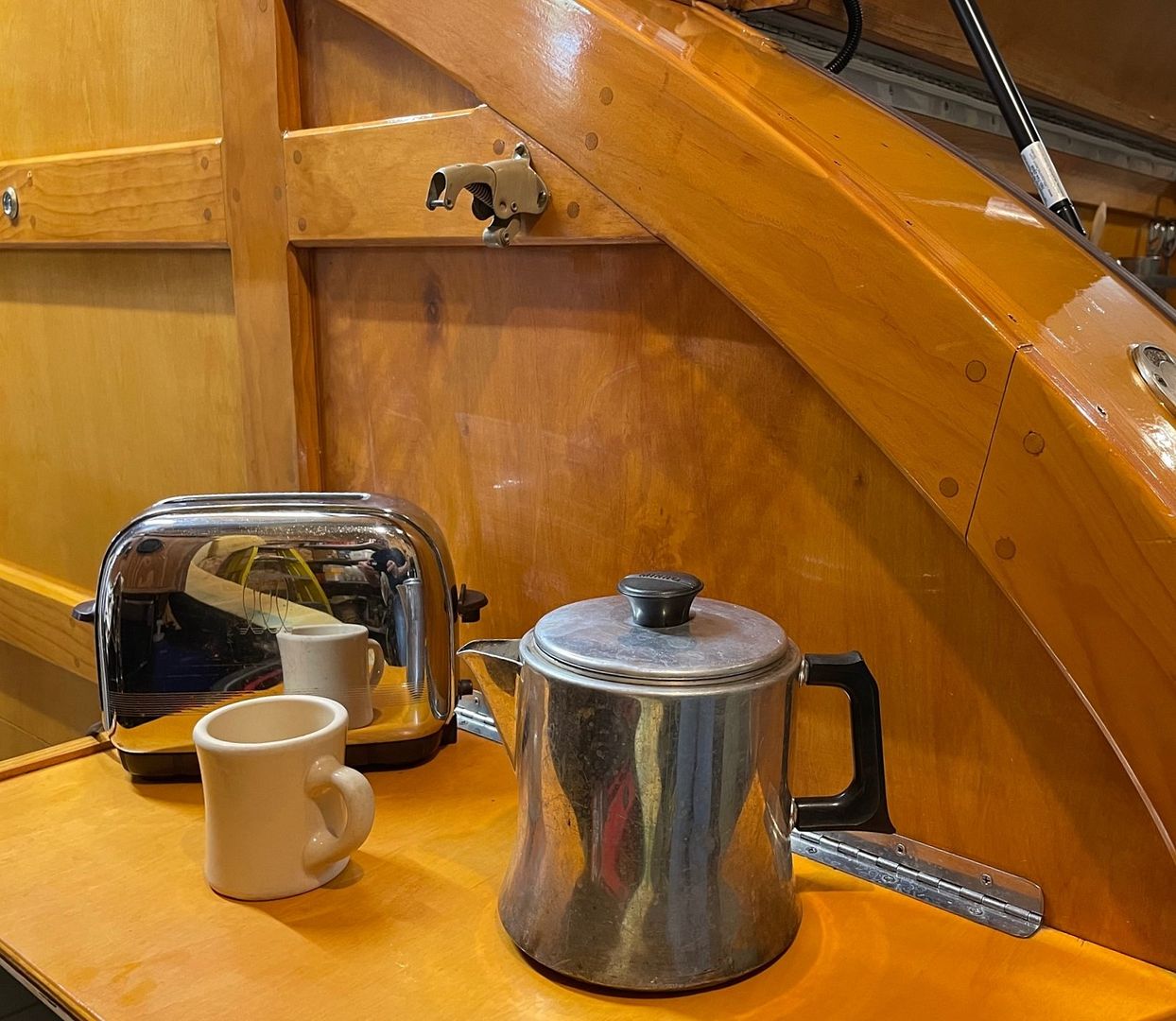 This is a Custom, tribute style build, based on a 1940's Fleet Cabin Car trailer.
Built in 2006, it is a comfortable, modern camping trailer that looks vintage.
If you like friendly interaction with other people, this trailer is ready made for you! It draws smiles and awe inspired conversation most everywhere, from the gas station to the grocery store, to the campground.
Great to pull behind your vintage car for tours, or hook it up to your modern car and go off on a grand camping adventure! It is a functional, comfortable travel trailer!
We created this trailer because we love camping, but were ready to upgrade from the tent that we always seemed to be setting up, and taking down in the dark, while it rained. And then there was hauling all the bedding, camp kitchen, and supplies! And...once you get settled in, having to go on a trek to find a bathroom...
It is so nice to get where you are going, and do nothing more than open the door and take one easy step up inside for a good night's rest.
Your bed is already made; you have lights, television, and a clean bathroom!
Setting up camp can wait till tomorrow!
Easy to maneuver on the road and in the campground, fast to set up, and it will fit in a 1 car garage.
Trailer tows with no sway at 75+ mph.
Trailer weight is 2200# dry. Fully loaded is around 3000#. Tongue weight is 280#.

Have a look at the main amenities and features below;
Full size bed
Private bathroom with shower
12 Volt self contained electrical system (battery powered)
Galley style kitchen
24" Flat screen LCD television, with built in DVD player, USB, and SD card slots.
21 gallon fresh water tank
6 gallon Propane water heater
7 gallon gray water storage
A/C
Furnace
Vintage style rope and pole awning, 8' x 7'
Titled as a 2006 trailer as required by Illinois, who issued title and new serial number
Currently licensed. Clear title in my name
Though it still shows very well, in the 16 years we have enjoyed it, it has collected some scratches and dings inside and out, along with some areas of checking on the exterior. The decorative vinyl covering the stainless steel piano hinges is aging. The brass and copper has weathered to a nice patina, but could be polished if you prefer the shiny look.
I have tried to give a full accounting of any issues I am aware of. If there is something you want more information about, please ask!
I want the next owner to be as happy and satisfied as we have been!
This trailer is ready to camp in today!
See more photos, and a walk through, and walk around video below.
Create your own camping adventures with this great vintage styled camping trailer this summer!
If you are interested in
a comprehensive list
of features and details, it is available at the bottom of the ad!
Feel free to contact me with questions or for more details!
If you are really interested, schedule an appointment for your chance to see it... before someone else buys it!
Camper is located in Urbana Illinois
61802
Rob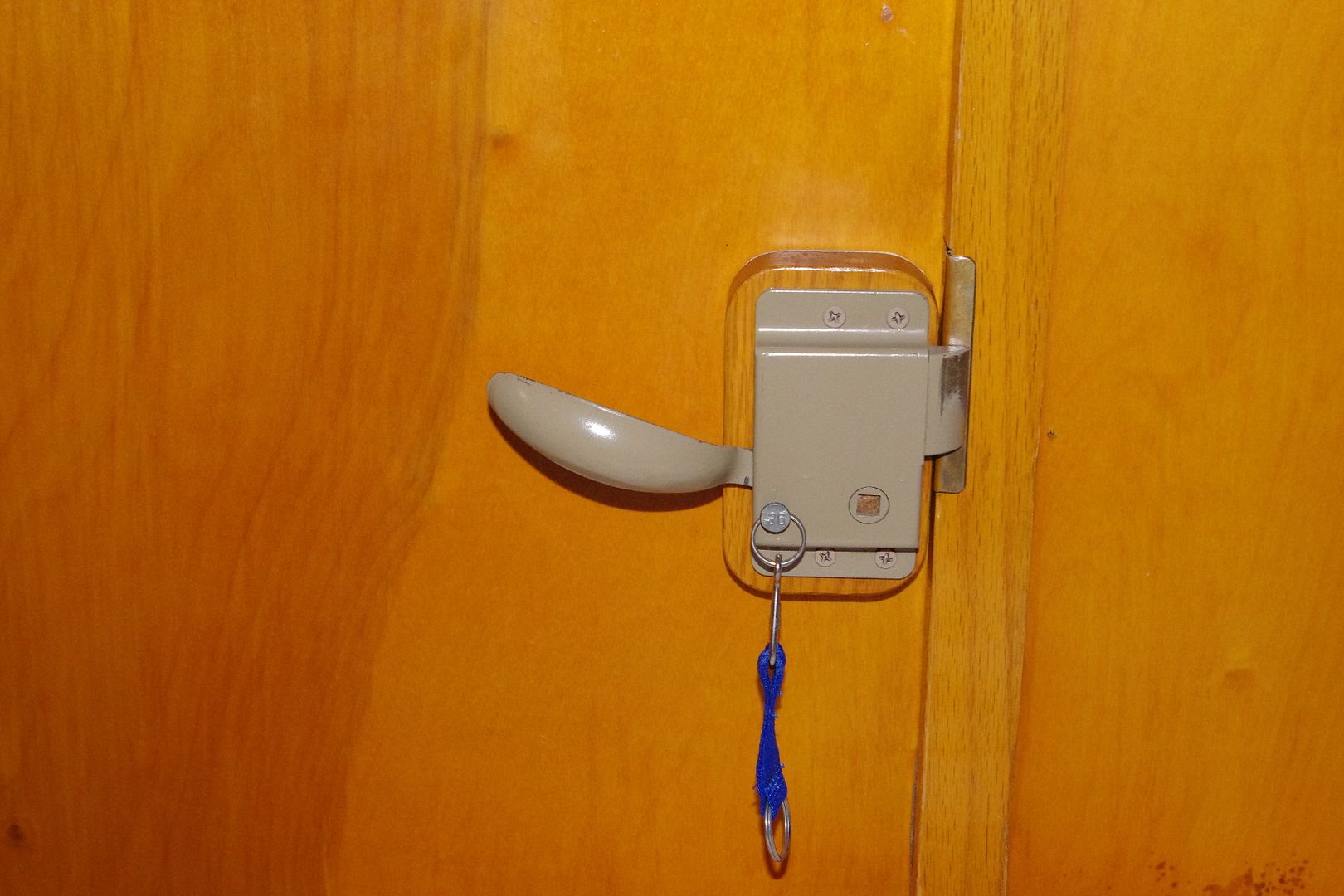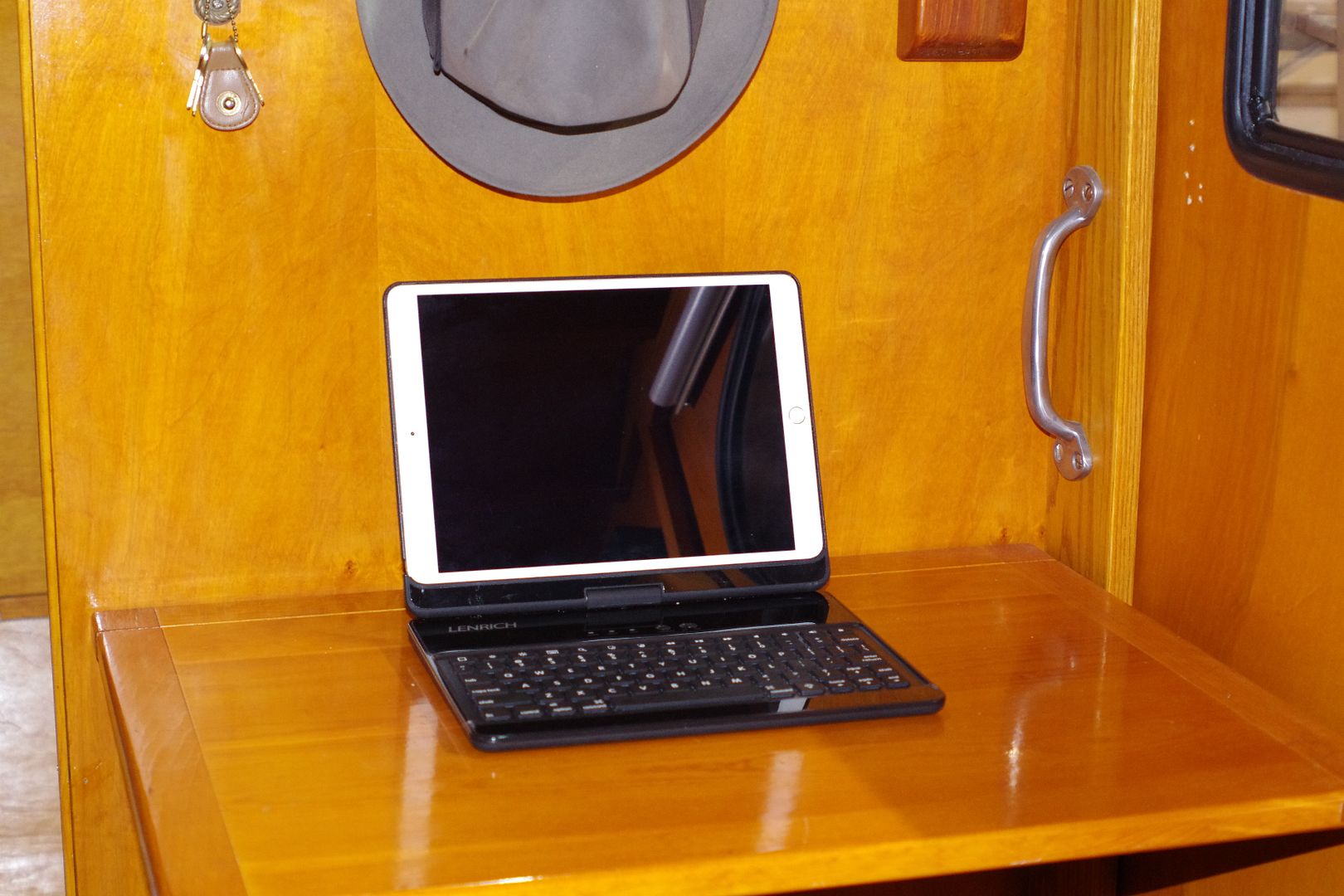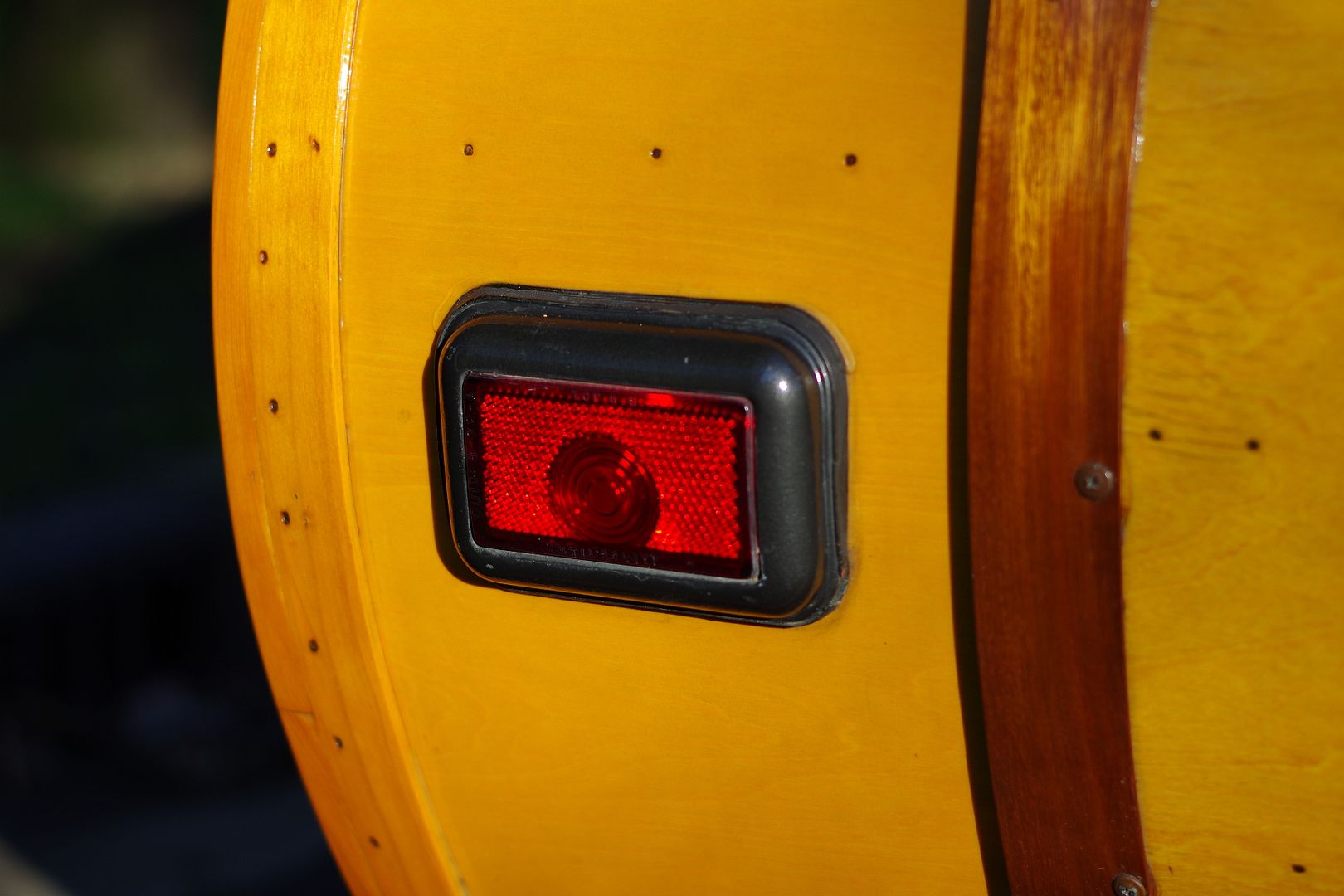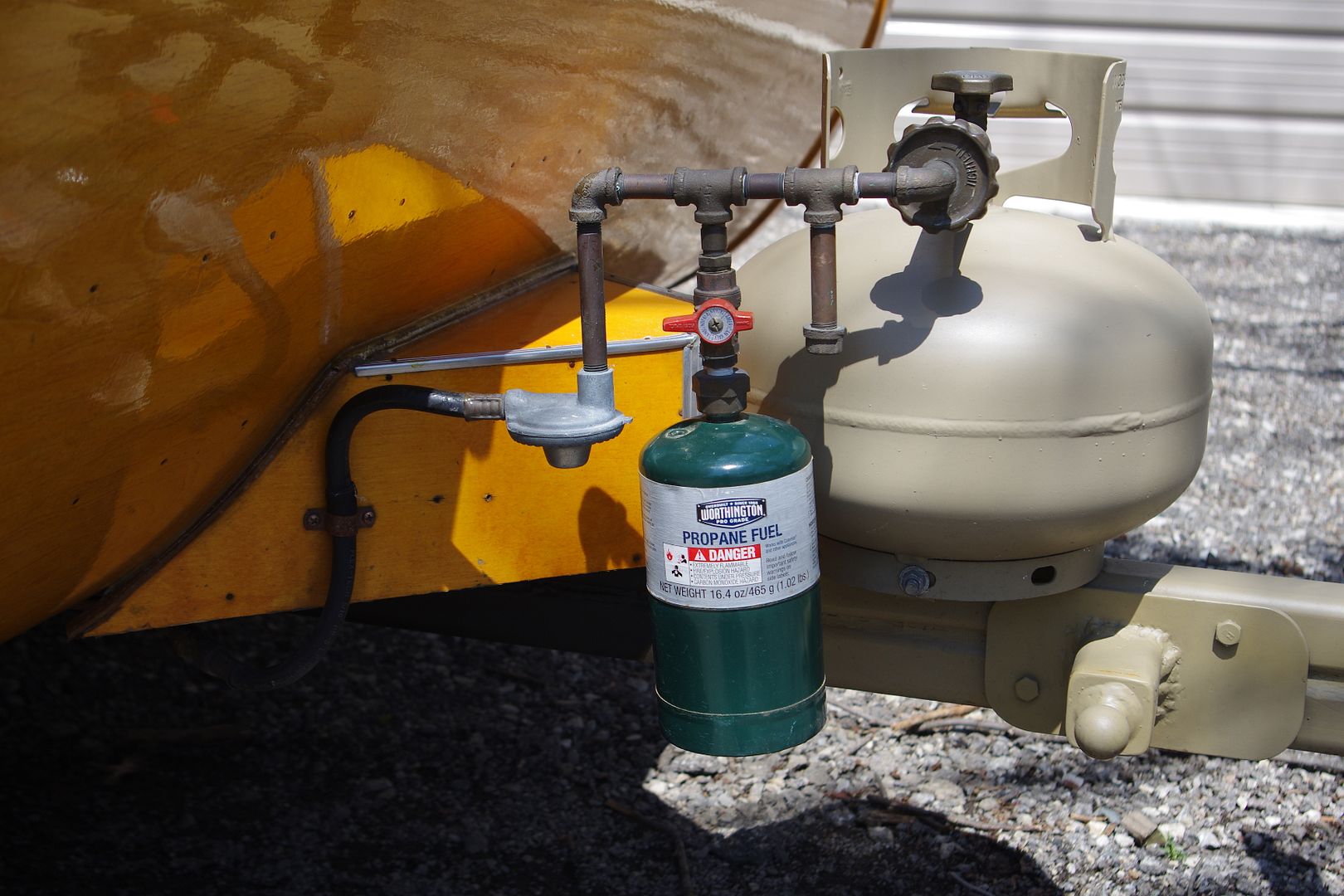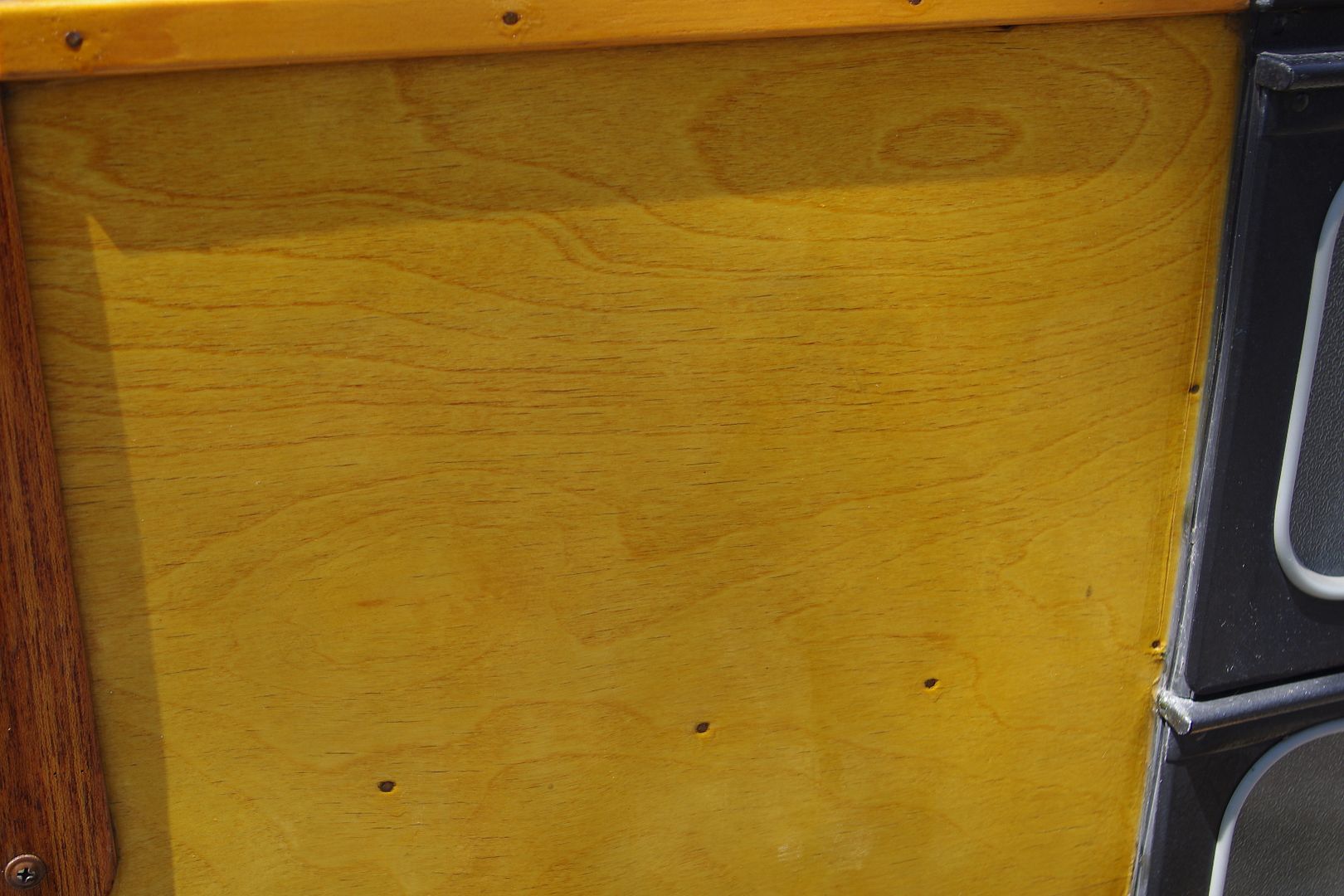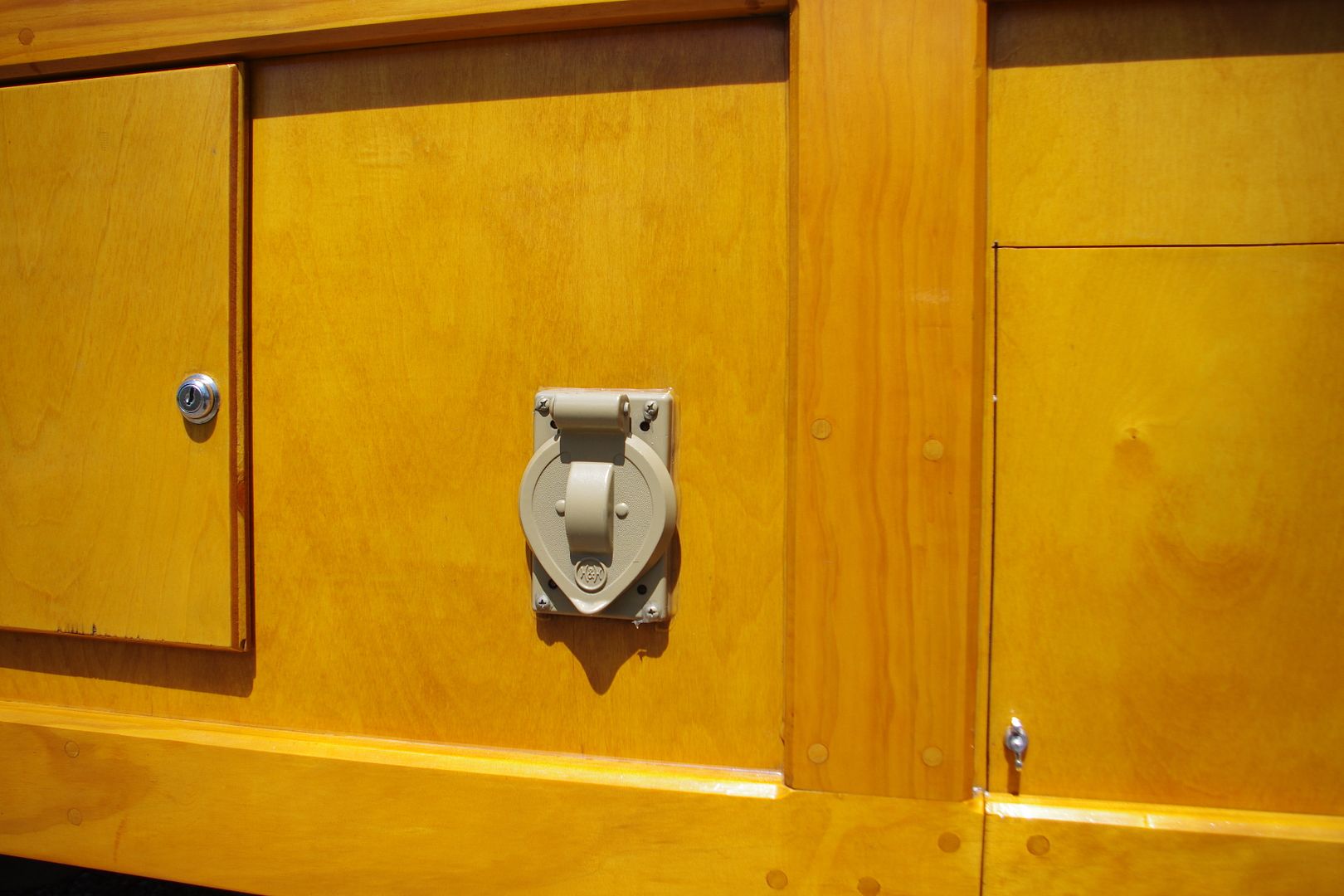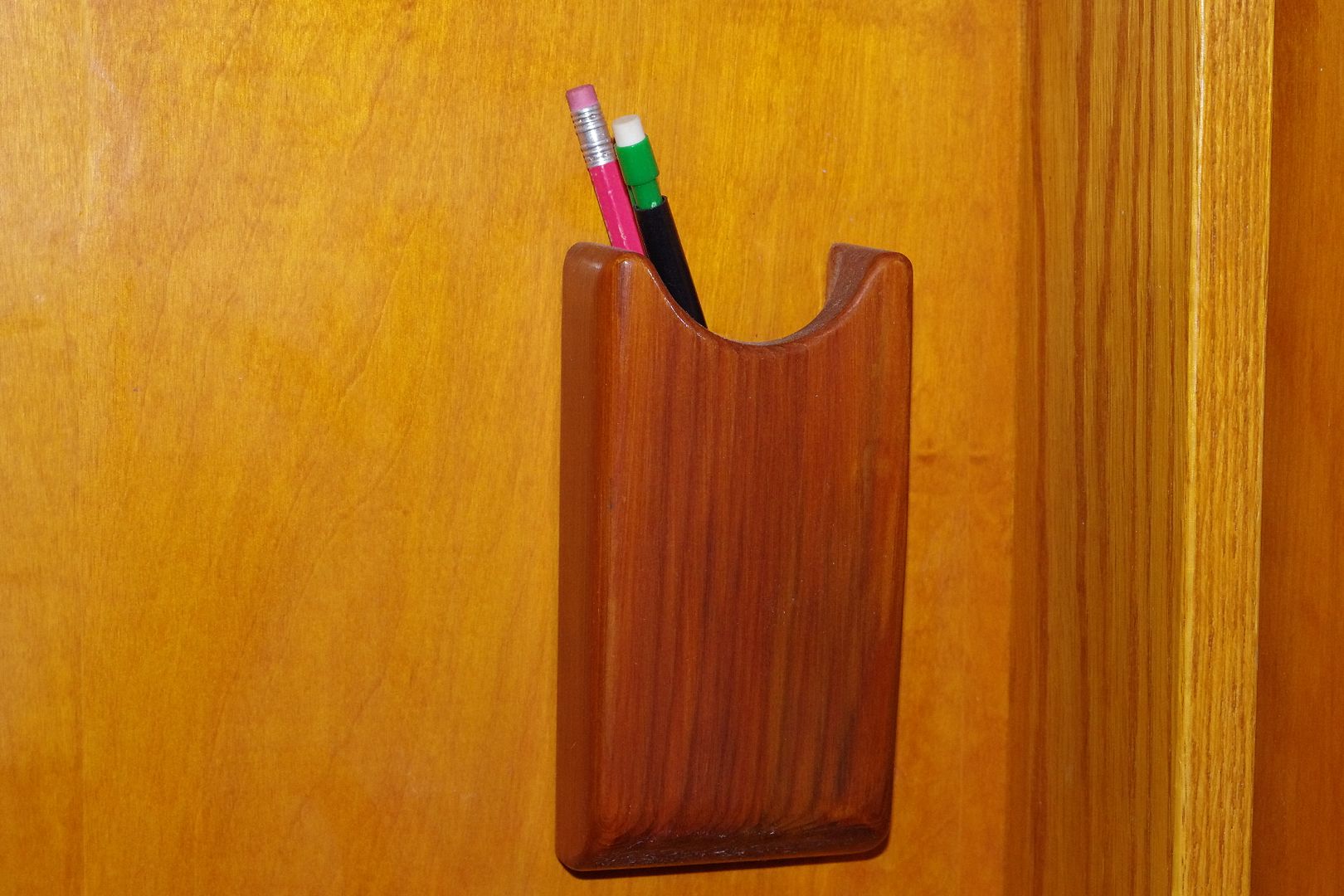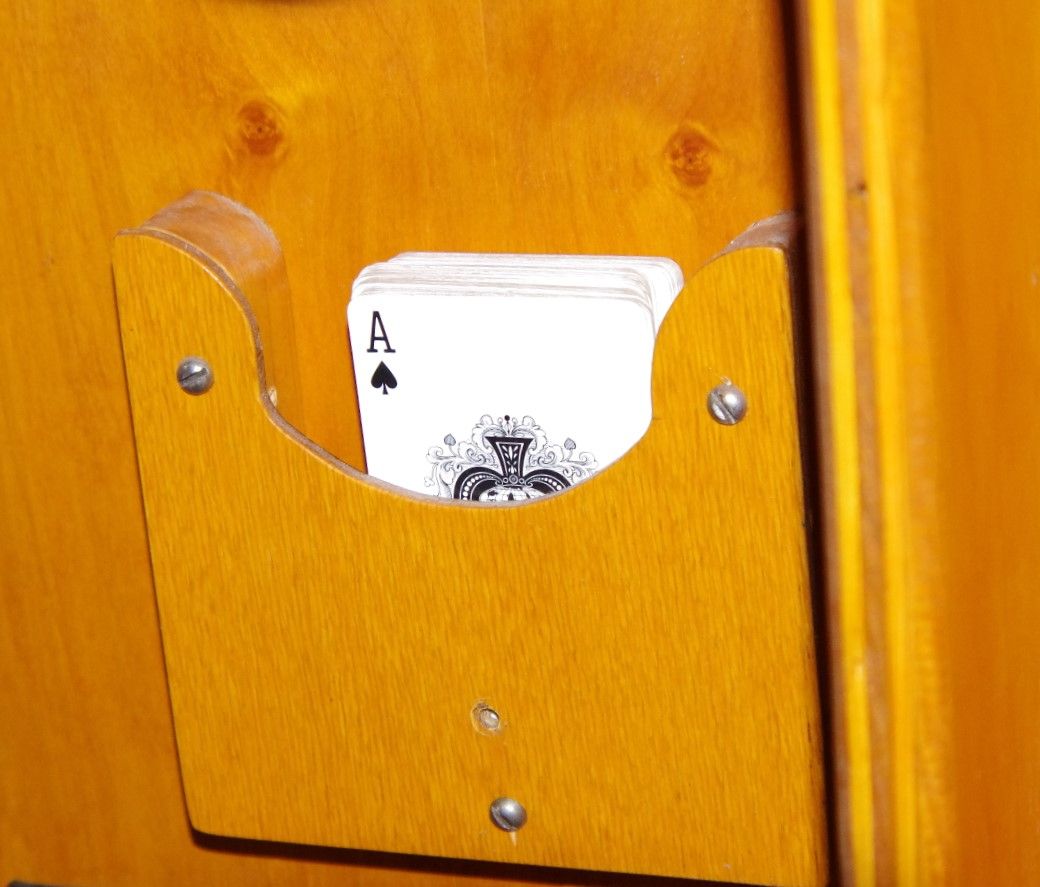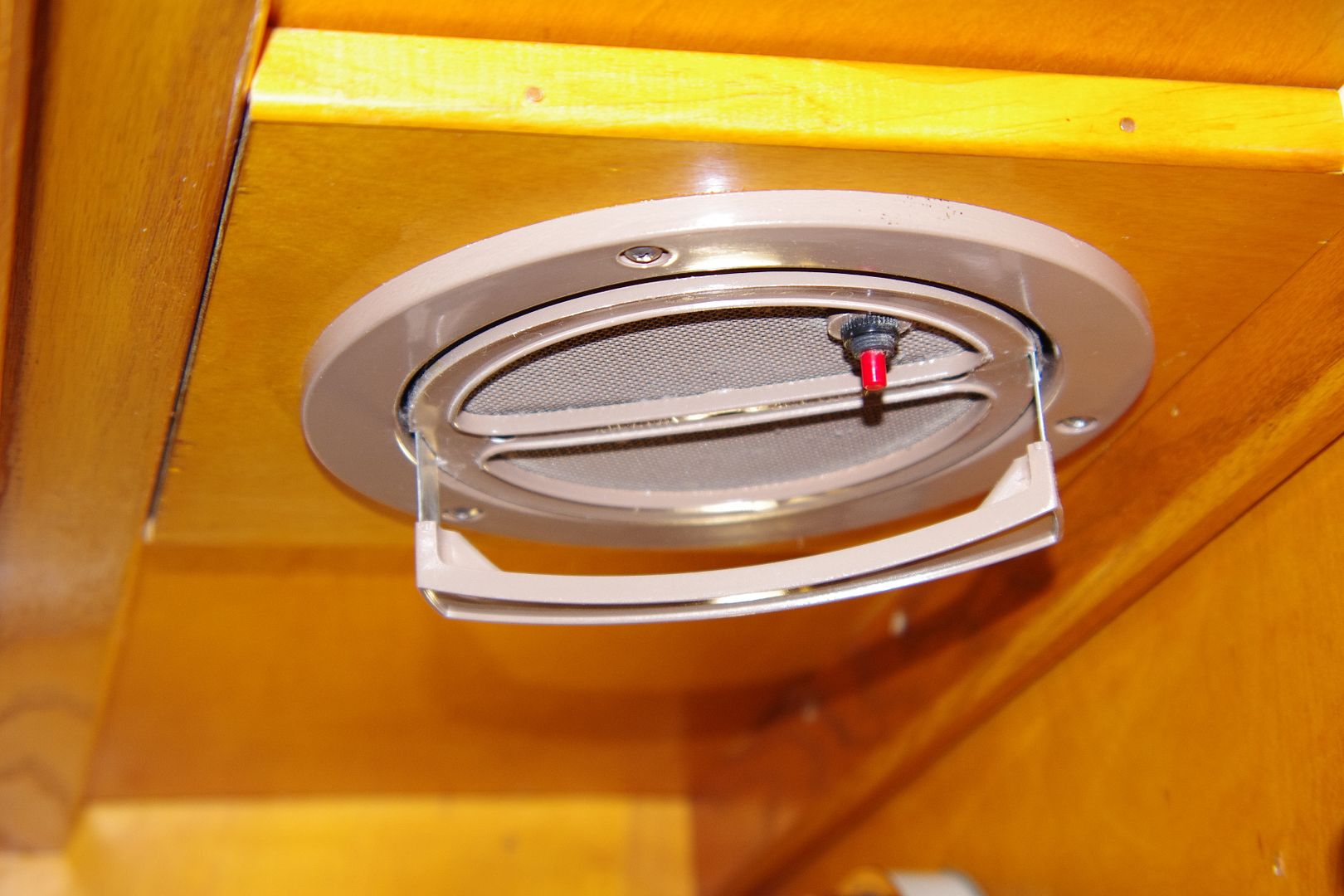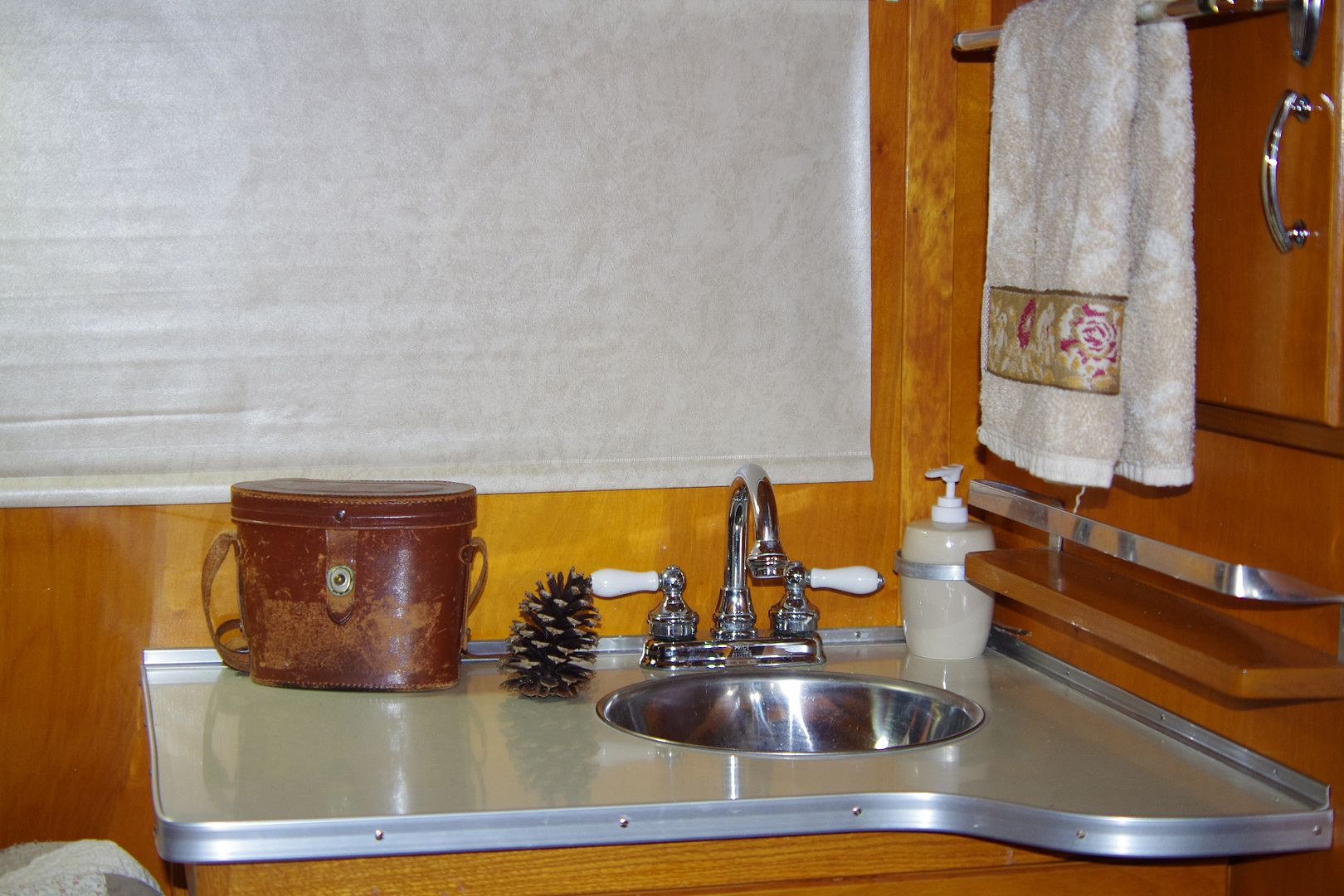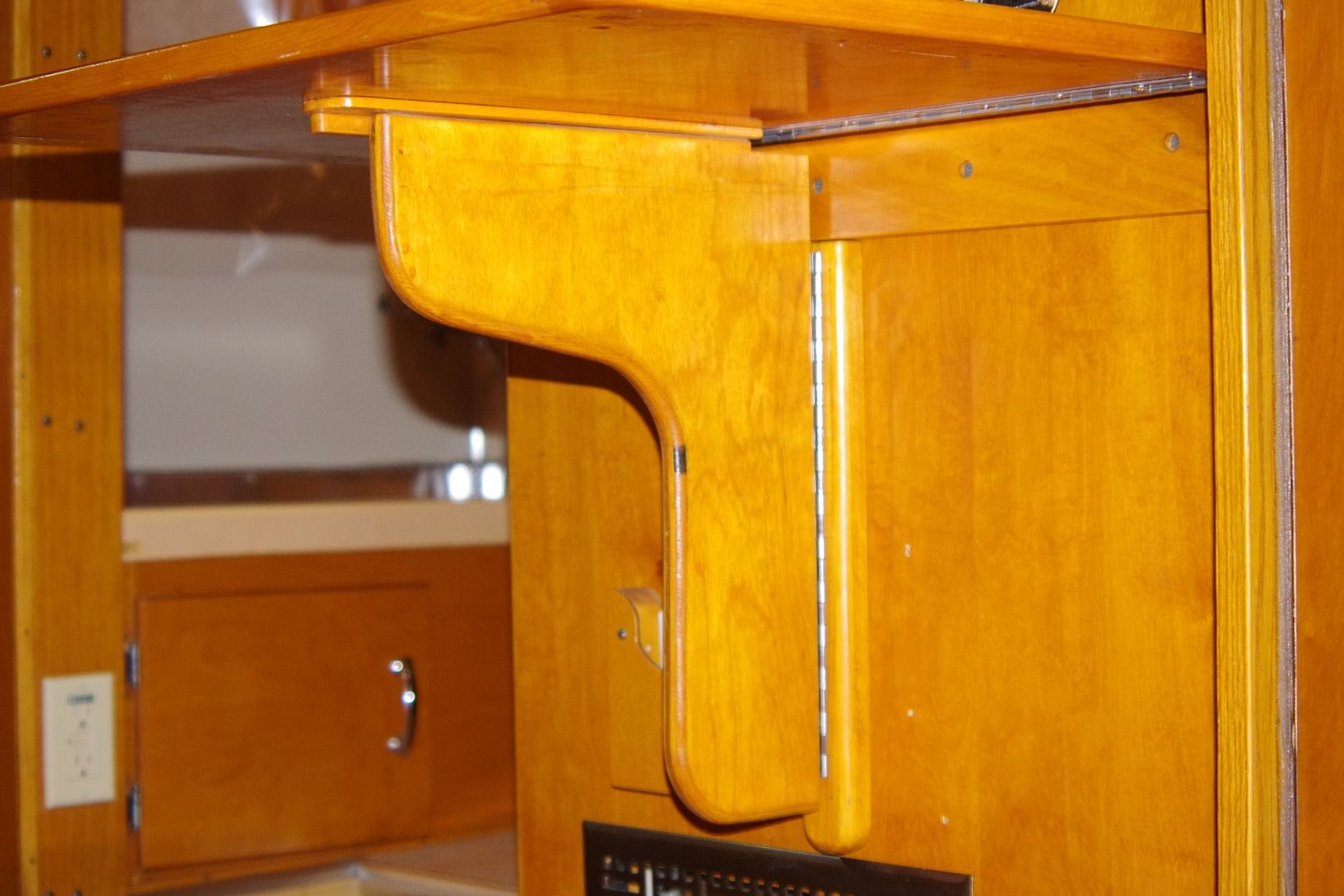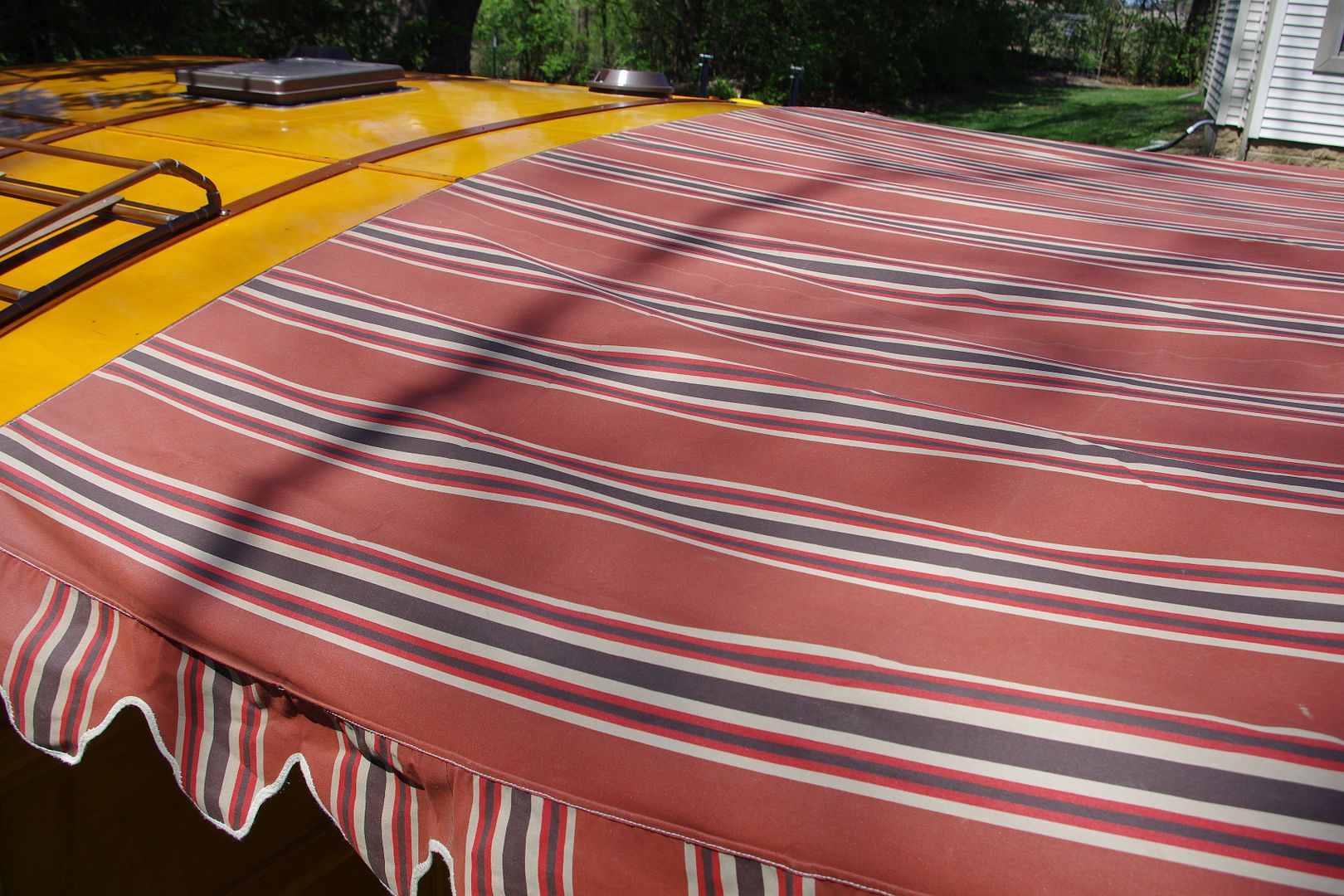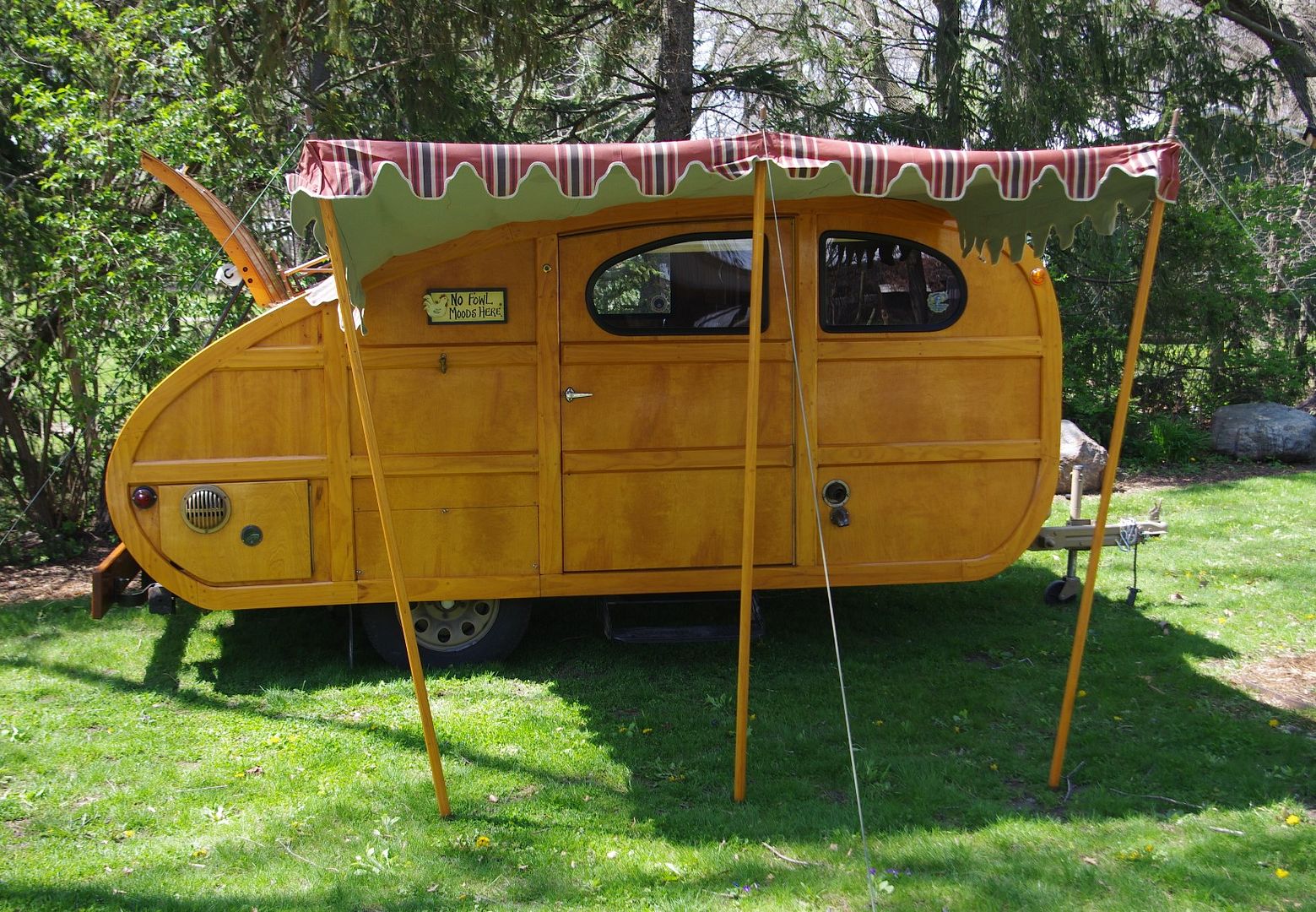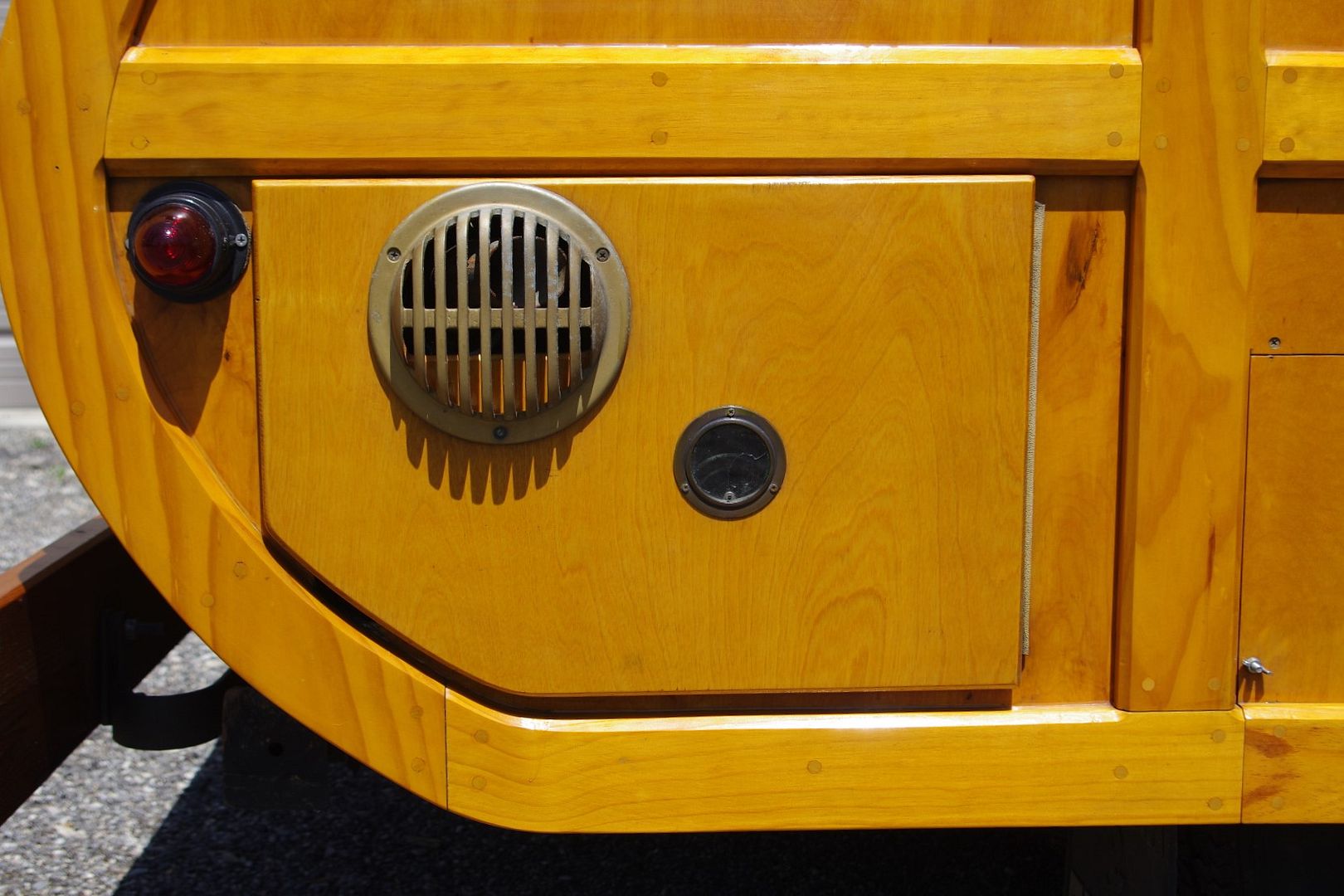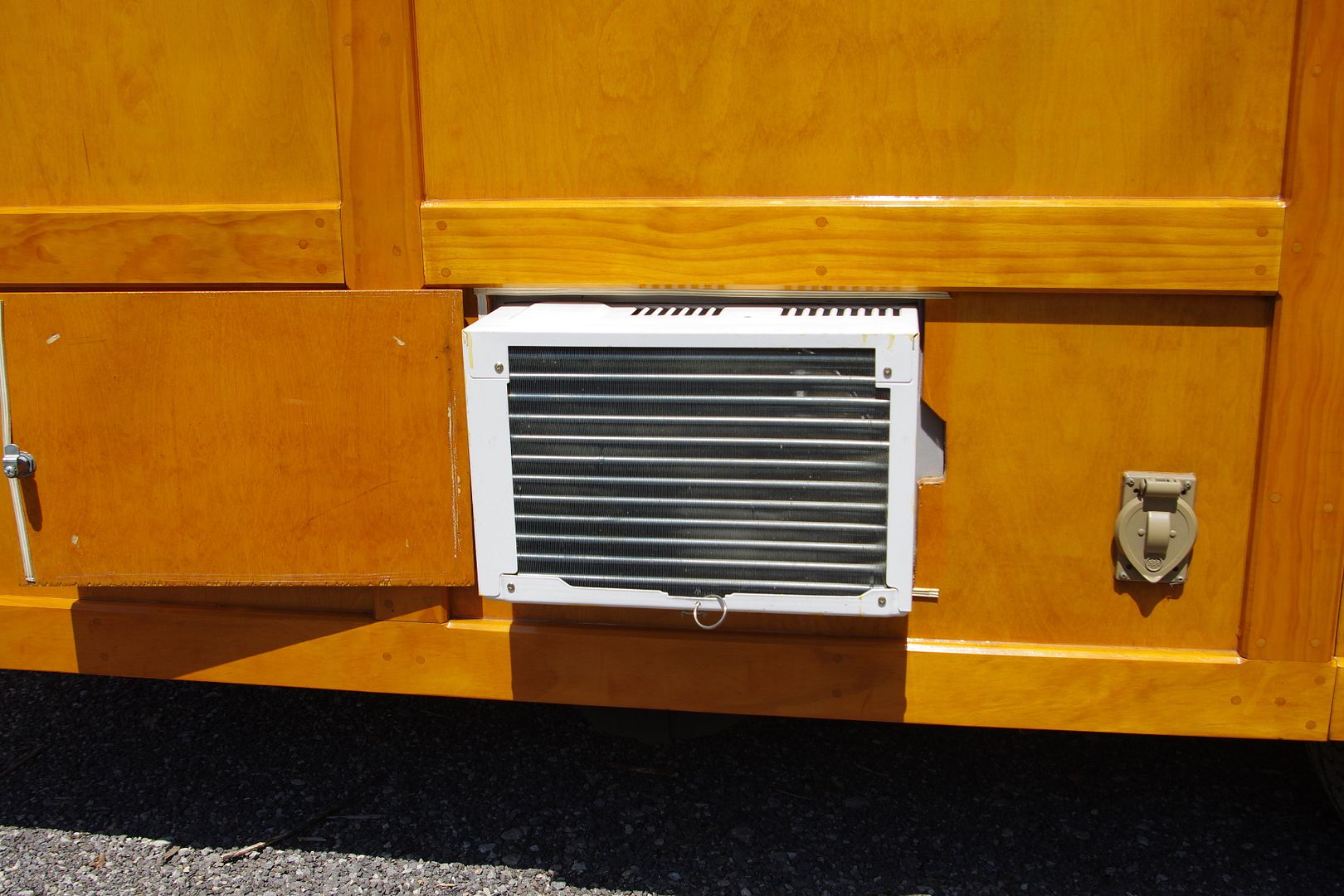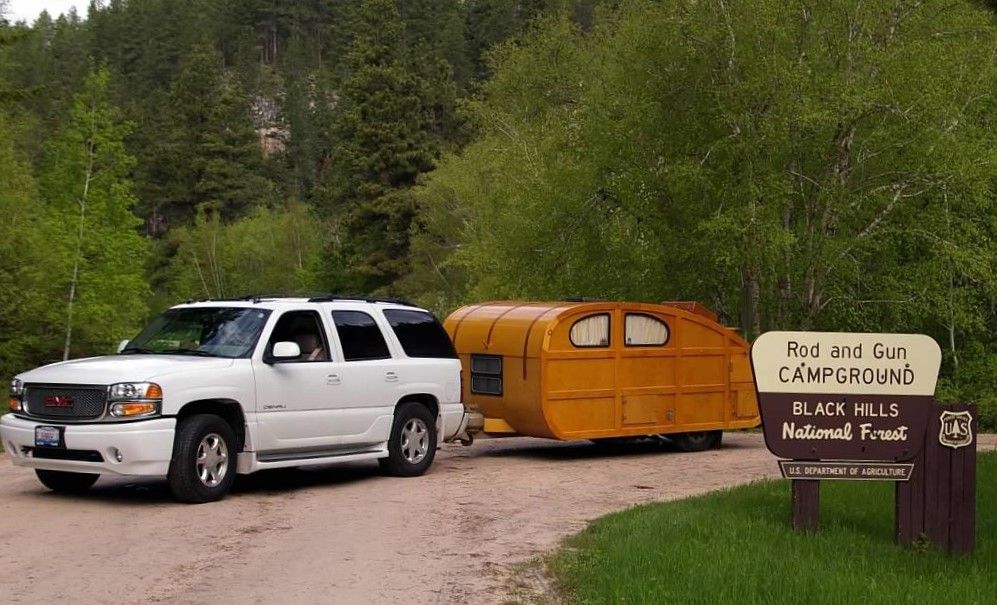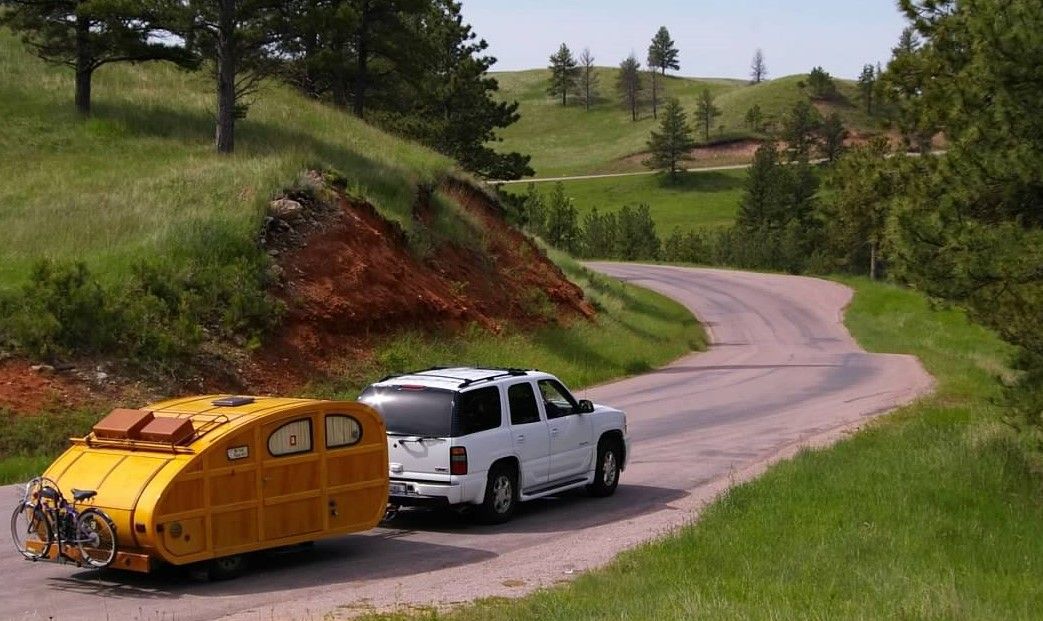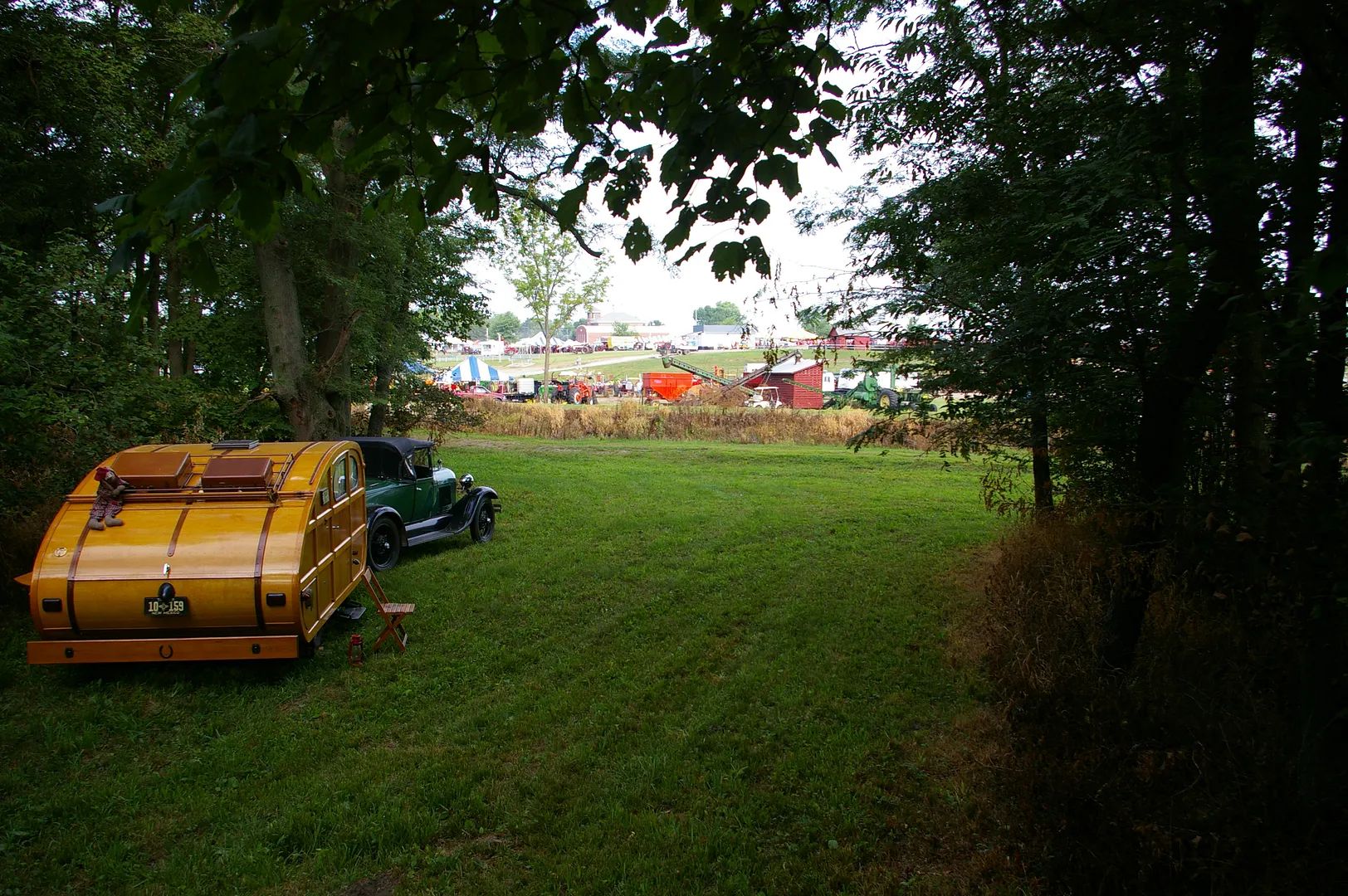 Custom built vintage style wood bodied trailer; Tribute style build of 1940's Fleet Cabin Car
Wood body of Birch, Pine, and Mahogany sealed with Spar Varnish
Full size bed-sleeping area and private bathroom in forward cabin
If you prefer, the trailer's bath area is large enough to convert into bunk beds
Full 5' wide galley style kitchen at the rear
Trailer dry weight is 2200 pounds dry with a 280 pound tongue weight.
Fully loaded is around 3000 pounds
2" ball/hitch
Exterior is 7' wide x 12' long x 6'-7" tall. Interior is 56" high in dropped floor area
Vintage Heavy duty 3500 pound 8 spring drop axle with brakes
Axle refurbished to like new when built, very good Warner brakes. Spare brake parts included
Vintage 1949 steel trailer chassis rebuilt and resized to fit new smaller trailer dimensions
Spring packs were refurbished for super smooth ride
Vintage running lamps and tail/turn signal lamps
Trailer is extremely stable due to rearward axle design, tows with no sway at 75+ mph
Heavy duty special trailer tires, in very good condition
Flip up locking tongue jack, with wheel
7 pin trailer connection
12 Volt self contained electrical system (battery powered)
2 true deep cycle golf cart batteries (new 2021) 220 Amp hours capacity
Battery Tender brand Multi stage smart charger/power supply
Solar can easily be added
Modern automotive style fuses with main system disconnect switch
All lights, pumps, fans, television, DVD, etc. operate on 12 volts
All but one lamp use very low draw LED bulbs for extended battery use
2 accessory 12 volt outlets
3- 120 volt outlets, two are GFCI protected
120 Volt system
Hidden, slide out A/C for use when 120 Volts is available
Propane gas system with 11# tank and ability to easily accept screw on disposable bottles in case you ever run out while camping
Atwood RV. propane 6 gallon pilot water heater with easy ¼ turn drain valve (instead of having to unscrew plug)
Automatic electric water pump (on demand ,constant pressure)
Winterizing cross over system to bypass water heater
Easy RV antifreeze connection that allows the water pump to draw the antifreeze directly from the bottle, no pouring or spills
21 gallon fresh water tank with brass non tamper marine fill port and easy ¼ turn drain valve
Gray water storage of approximately 7 gallons to meet campground "self contained" requirements. Tank is drained via hose into dump station
Self contained Portable Toilet (brand new in the box, never used)
Onboard water tank system for use with 12 volt pump
City water connection (hose connection which bypasses tank and pump))
Outside faucet (for use with tank and pump system)
Suburban, 16k BTU propane RV furnace with thermostat
Floor and ceiling vent fans
Vintage and modern interior lighting
12 volt 24" Flat screen LCD television, with built in DVD player, USB, and SD card slots for external media input (we used an external hard drive which stored hundreds of movies and series shows when in no reception areas)
External sound bar speakers, and powered indoor antenna
TV. And powered antenna switch from 12 volt source to 120 volt source automatically through relay switch to prevent battery draw when connected to shore power. TV, antenna, and DVD player are also switched to prevent power draw from "always on standby" when not in use
Exterior Cable TV/antenna hookup
Stand alone DVD player (in addition to DVD built into TV.
Sit down RV. Style Shower/tub with hot and cold running water
Storage cabinet under tub
2 high capacity exhaust fans in bath area ceiling
Storage shelves in bathroom area
Custom Medicine style cabinet in cabin
Large drawers under the bed for clothing, etc.
Hidden storage bin at head of bed area
Modern "wood look" vinyl in drop floor area
Vintage Linoleum in bath area
Fold up table inside for laptop, dining, cards, etc.
Sink with hot and cold water in the Cabin
Food and pots/pans storage areas in galley
Extra food and prep material storage under counter
Vintage deep bowl sink in the kitchen with hot and cold running water
Vintage wall mount can opener
Large capacity cooler accessible through countertop with "P" trap drain to retain cold longer
Vintage Modernaire two burner propane stove
Vintage 7 piece set of Magna-Lite cookware included
Comfortable innerspring mattress always encased in mattress protector
Custom made copper roof rack
Receiver hitch on rear of trailer for bike rack or other use
Folding counter on exterior of trailer for extra work space
Flip down extendable stabilizer legs at rear of trailer
Vintage style rope and pole awning , 8' x 7'
Vintage suitcase included which contains brand new 50' power cord, brand new water fill hose, and brand new water tank filler
Titled as a 2006 trailer as required by the state of Illinois, who issued title and new serial number
Trailer is 16 years old and has been towed roughly 8 thousand miles
Currently licensed.
Clear title in my name
Come by and have a look, I'm open to reasonable offers - Rob