The concept of my teardrop design is to have an offroad capable teardrop camper that can be used as a utility trailer during its non-camping life. It will not be used as a rock crawler, more washboard roads that a un-modified Toyota T100 can travel. The dimensions are a 57-inch (between the fenders) by 9 foot utility trailer with a 5 foot wide by 9 foot long teardrop pod (removable) that fits on top. The pod will have a steel sub-frame that has exposed ends to allow a steel tube to be slipped into it. With a steel tube inserted that is longer than the wheelbase of the trialer, you could then jack up the teardrop pod, clearing the fenders, and pull the trailer out from under the pod. Here is a SketchUp model, with the sub-frame shown between the teardrop pod and the utility frame (the sub-frame won't be visible when built and the utility frame will be over-hung to hopefully create a more aesthetic look).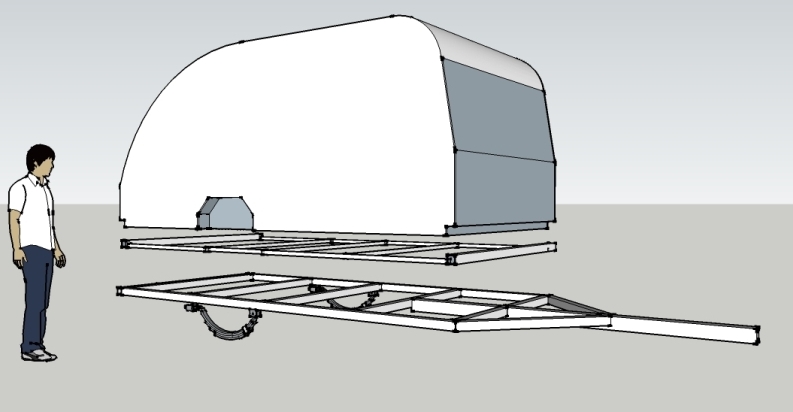 I was thinking of using the offroad type jacks to lift up the pod, needing just two and using jackstands to set the teardrop pod on. The lifting of the pod would be a two person job. The utility trailer will be 2"x2" frame with a 3"x3" tongue, and the subframe will be 1"x1" with 2"x2" ends. The exposed ends could also be used like the four corner hitch design.
The pod will be framed with ¾ inch framing, insulated, and skinned with 1/8 inch plywood on the interior and exterior. The top will be aluminum skinned. The floor will most likely be a single thickness of ½ inch plywood relying on the mattress for insulation.
To connect the teardrop to the camper I have been thinking of the design below. This would fit into stake pockets on the utility frame with brackets that clamp it to the utility frame using threaded bar. Here is a SketchUp model (looking from underneath with parts removed for (hopefully) clarity).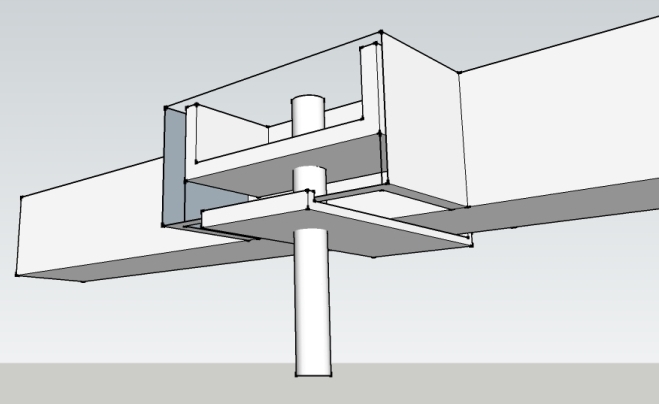 I'd appreciate and comments on the design. I have looked around the site for a comparable design but I have not seen it executed quite like I would like (maybe I should take that as a warning?). I'm a little worried that this design will sound like a heap of rattling steel when traveling down a dirt road. Anyone know of wear strips that could separate the two steel frames? Maybe strips of UHMW plastic (cutting board material)?
Thanks for the input.