I stumbled my way over here from the foamie section, but I figured this discussion would be more suited to the off-road crowd.
I'm planning on slide out style kitchen in my foamie.
This Australian design really caught my eye.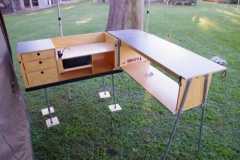 I like that it has no expensive drawer slides, and is easily used stand alone.
Are any of you running a slide out kitchen? Things you would add or not do a second time?