One of my sons and I were talking this morning, him being at work. running a CNC router in a cabinet shop.. we were talking about some old times.
He enjoys telling me what he's doing, because it compares what he does to what I did in the past working different jobs.
One of my jobs was running a 12 hour shift with 22 people, in a production cabinet shop as a supervisor. We had and ran 5 KOMO CNC, 5' x 12' float vacuum table routers, (not the in your garage table router), among other equipment.. anyway he thinks it's very cool, that he now does what his ole man did. Being able to do the code and run different CNC's is a big accomplishment for him.. I am so proud of what he has accomplished..
Recently, a trip to a local lumber yard didn't have me finding what I wanted for this camper as for trim.
As I've mentioned before I have saved a lot of old wood to be repurposed one place or another. This, just one throwed together pile we have in an old pole barn.
So anyway, yesterday I decided to set up an old CNC (Rigid table saw)

and make my own trim. <-- My son will enjoy that sentence.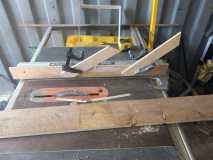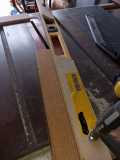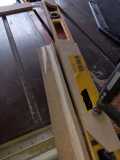 Amazing what ya can do with the right tools and frame of mind.. no matter how expensive or not the tool is..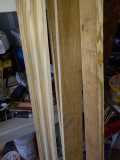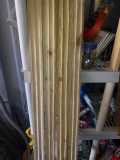 Sanded, this will work just right where I need it.. and hey I enjoyed taking the time to make it myself and saved me some money too..

So what do we need next for the camper ??