We are now at our "Summer home" (aka "Mom's") in Upstate NY. We decided our cat travels so well

that we'd take a few extra days on the trip to show her the country.
We had a rough start, which was due in large part to poor pre-trip planning on our part. Last year, we simply stopped at camp sites at the end of the day when tired; this year we decided to make a few days' reservations ahead of time. Which meant we wanted to spend the first (and second) night at Red Rock Canyon State Park in Oklahoma. That's about 7.5 hours driving time from our home in New Mexico. (Also, we lose about an hour of sunlight due to the drive East, with corresponding time change.)
We got up early, ate a big breakfast, and were packed, hitched, and ready by 8:45. A last minute check of tire pressure revealed three slightly low tires in the Taco, and one over-inflated by about 6 PSI. We decided our mechanic had over-inflated that one tire a few weeks before, after we got a flat hauling brush to the dump. (Why hadn't we checked that before!) Our solution was to go to the gas station, air the others up, and de-air that one. Bad mistake! The lousy air hose connection made us loose air in the first tire we tried inflating. Got to the point where we had a warning light.
We could have (should have) broken out our own compressor, but it was packed, so we decided to go back to our mechanic. He got us right in. (We have "preferred sucker status", since we also own a Jeep.) He checked the low tire to make sure the valve stem wasn't broken, and made the air right on all tires. So we left a little after 10 am.
We hit the rain somewhere in Texas. We had been in drought (actually fairly close to the biggest wildfire in the country) and hadn't really thought too much about our cheapy, year old, windshield wipers. The one on the passenger side fell apart around 3 pm (central, in case you're keeping track). In Shamrock Texas, there are no auto-parts stores, but the grocery store just north of I-40 sells windshield wipers. (You probably ought to note that somewhere, in case you're in the same position, at the same place, we were!)
Anyway, around 5 pm, in Western Oklahoma, the rain became so hard we pulled off the highway for about 40 minutes. We continued to the camp site and arrived just before dark, in a moderate rain. Pulled into the same electric site we had last year. Decided our late lunch at a McD's was substantial enough we could skip setting up and cooking dinner in the rain, so we climbed in, watched a DVD, and went to bed.
At some point, I began to notice the sheets were damp, with water climbing up from the bottom. A quick check revealed it wasn't the cat (or me). We'd driven all over the East last year and the teardrop stayed nice and dry, but somehow, in the driving rain that day, the bottom of the cabin and utility room both became wet.

The next morning,
after a big breakfast of reconstituted eggs and bacon, while I relaxed and started Tony's new book, Shelly ripped off the bedding and used her hair dryer on our mattress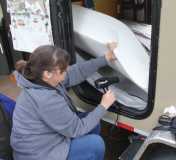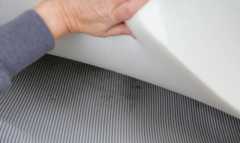 It's a good thing we were at an electric site, so she could use the hair dryer! The mold is alarming. Maybe we did have some water get in last year. How is still a mystery, although we suspect the store-bought doors. We may take the time to test it some, with Mom's garden hose. Not sure what we can do, but understanding the problem is the first step.
The day started to clear, and by early afternoon was sunny. We originally thought about going to the nearby Stafford Museum, or a local museum just outside the park entrance, but decided we needed to hike the nature trail and exercise our paws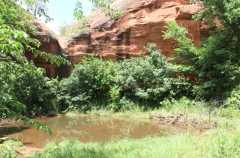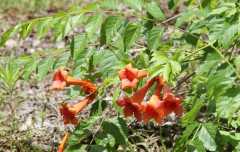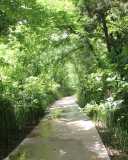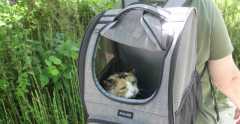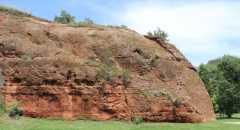 (How much exercise do paws get in a backpack?) We still have the museums for future trips, but I consider the 0.6 mile nature walk enough to color in Oklahoma.
The weather continued nice so I cooked us dinner in a dutch oven, which also gave us leftovers for later in the trip. That evening a ranger came by and told us we hadn't actually reserved an electric site, but rather one of the "tent" sites. He was cool with it, and I'm glad we made the mistake--I don't know how Shelly would have used her hair dryer without electricity!
We had been careful to make the minor modifications to the tear from our list from last year's camping, checked it over well, cleaned and checked fluids in the truck, and packed it with Shelly's resin printer and other tools she needs for her doll house business, and packed everything else we think we'll need for 5 months living in the East. Somehow we missed checking tire pressure in the truck (I'd checked them in the tear) and replacing the windshield wipers.
Actually, just to make the list complete, I'd missed checking the batteries in the tear as well. On this trip the coin cells in a little electric kitchen timer went out as did the coin cell in our galley thermometer.
On the other hand, I've NEVER had a problem with my glasses after 20 years of camping (tent and tear) but always brought a spare pair along. That first day was the day--a lens popped out and resisted replacement. We'll break out the 5 minute epoxy this afternoon.
Think that first day of our trip was the most challenging so far in our teardrop travels. But we recovered okay.
As we left Red Rock Canyon, we pulled out of the canyon and were once again in the landscape of the Great Plains. We're not aware of anything else quite as beautiful as that campsite in that part of the country, so I expect we will go back, despite the slightly long drive (for a first day of a multi-month trip).
Tom