Same town as the auto race, but this is Watkins Glen gorge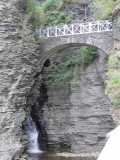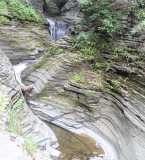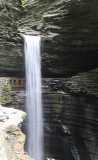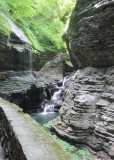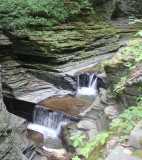 There was some trash in the gorge. We asked a ranger if they ever went in to clean it up and she said it was too dangerous. Instead they rely of the melting snow each spring to clean it out.
I'd last been here probably 55 years ago. I remember bringing a toy airplane along, that I lost over the side. I cried and cried! And, hey!...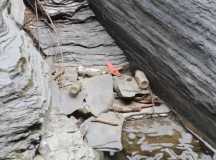 Now who would dare walk over a stone bridge built by a subsidiary of Harbor Freight?

This is a day use only park. There are three entrances. We went in the one in Watkins Glen proper. From there, it is a mile and a half upstream (we've heard the altitude gain is about 7 stories). All of the falls are in the first mile. At the other end, one can ride a shuttle bus back for $6/person. Shelly did that, and I took another, flatter, path back. At the end of my trail, I had to climb stairs down almost all of the height difference. We arrived back at almost the same time.
Curious technical note on the photos. When we got back yesterday evening, and I was looking at my shots on the computer, I was very disappointed in the results. All looked washed out and slightly out of focus. Shelly took pictures on her phone that looked much nicer (though, of course, smaller). I experimented with some post processing and found the "sharpness" control really brought out the layers of rock, etc. Not sure why these particular photos needed the treatment more than others, but I may try this on other pictures I've taken for the past dozen years.
I recognize post processing actually adds something that isn't really there, and for art's sake not all pictures should be too sharp, but it seems to help my poor attempts at making decent pictures.
Tom