Last weekend we camped in Caesar Creek State Park, Ohio, to attend a doll house convention in Fairborn that Shelly may want to rent a booth at next year, and to see the National Museum of the Air Force at Wright-Patterson Air Force Base. Wow! What a mouthful! Those are the words for the congressmen when the Air Force lobbyists ask for money. To us, they are the Air Force Museum and Wright-Patt, or just WPAFB.
Anyway, we've stayed at three state parks in Ohio and the campsites are all big lawns with few trees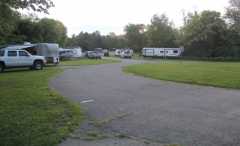 But we did camp at the edge this time
There is a lake back there, although we used it as a base to see the suburbs of Dayton, not to explore the park. Served that purpose quite well, and we will likely be back when Shelly sells her wares next year.
I was stationed at Wright-Patt back in the mid-80's, when the museum consisted of a small hanger with many aircraft outside. Man, what a change! Today, there are 4 large hangers, and it took us a day and a half to see everything.
There are still a few aircraft outdoors. This A-10 couldn't have been there when I first visited, because the events it participated in (Gulf War, War on Terror) hadn't happened yet.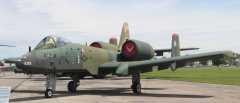 I won't comment much on this one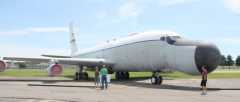 other than to say I wasn't the one who bent the nose. If necessary, I can show you the results of the investigation that prove it!

I used to visit this museum a lot. I even took dates there (which may partially explain why I was single for so long). I took my Grandparents there along with an Uncle, when he was the Wing Commander of the A-10 training wing. (His picture is now in the museum, btw. It happens he was the first one to fly 100 combat missions in the "Hun", or F-100, when he was a Misty FAC in Vietnam.)
I well remember in those days seeing the old World War II pilots bringing their grandchildren and telling them what they did. (I'd eavesdrop!) Today, it's the Vietnam pilots doing the telling. (I still eavesdrop!) The museum is free, which of course means all of us US tax payers paid for it. Well worth the money in my opinion. (Not that I was consulted in the matter.) The way the museum is laid out today, it will educate on both the history of airpower, and the history of US participation in the wars from World War I to the present.
Tom