Hi all. Days before we were to start our trip back east this Summer, some medical concerns arose and we decided it best to cancel for this year.

So now we are stuck in paradise this Summer! I mean, when I lived in Los Angeles I cherished trips to New Mexico! So, we decided to take as many day trips as possible, as well as using the time to make cabin improvement projects, and maybe even improve our teardrop for trips to come.
Far as the day trips go, thought it might be helpful to post some pictures and information, for folks who may travel through the area some day.
Friday, we drove down to the Sandia Ranger station (NFS), less than a mile south of I-40 on NM 337 (old South 14) at the Tijeras exit. The attraction here is a 1/3 mile walk through an old archaeological dig of an even older pueblo. I thought this pueblo was a going village into the early 1800's, but it turns out it was abandoned a few centuries sooner, with some others a little to the north growing up later.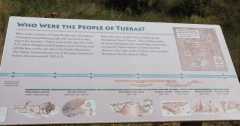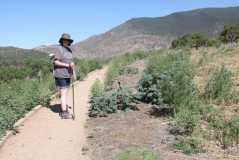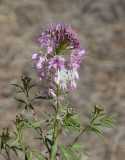 The ranger station has a visitor center, and there are pit toilets by the parking lot, but no picnic tables, unfortunately. There is a museum on the walk, that is normally open Friday-Sunday. It was closed for a special event last week, but we'll get back there soon, and report. Since we live just up the road, I'd like to learn more about the Pueblo Indians who hunted, and possibly lived on the land I now own.
This is located in a nice place for a break when driving through on I-40. Too bad there are no picnic tables at the ranger station, but there is a Subway right off the interstate. There are also many trail heads both north and south, mostly run by the National Forest Service, but also by Albuquerque Open Space.
Tom