We spent a long weekend at the Taos Balloon Rally, this past weekend. Since we had to be up at 7 to crew for our balloon, we chose Taos Valley RV Park & Campground over one of the State Parks, National Forest, or other sites further from the village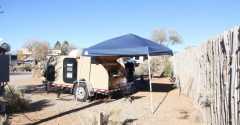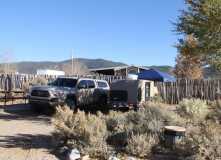 Not bad facilities, though we were close to others, as we expected. Temperatures dropped down to just below freezing on at least two nights, but our (shore powered) electric heater kept the cabin warm. We didn't do much cooking--up too early for breakfast, but we grazed at the tail gate after ballooning, and usually had dinner with our balloon pilots and other crew. We did have one "boil in the bag" dinner, using some left over bags from our long trip back east.
Taos is a nice town, if you are in the area. Lots of natural wonders to see in the region, but we've already seen most of it, so we stuck around town checking out the thift stores and used bookstores. (Almost completed my collection of Tony Hillerman and have about half of Louis L'amore's works. I read them on the campouts, then either trade or donate them.) If you do make it to Taos, be sure to find the bridge over Taos gorge and check out the gorge and buy some souvenirs from the local indians set up along the road. Then tour the Pueblo (if they are open) and explore the nearby hiking through the mountains, including Wheeler Peak: The tallest in New Mexico. Taos, and Taos Sky Valley are known for skiing, which I don't, but if you do, I'm told it, and nearby Angel Fire, are good places.
The balloon rally is always fun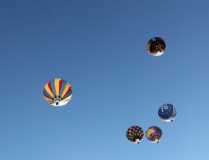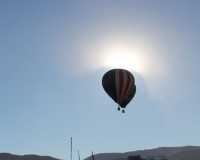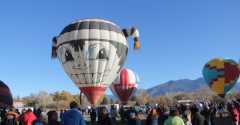 Ours is the red, blue, and yellow one on the left in the first picture. A lot of balloons from Albuquerque show up. This is a really relaxing rally for them, after the traffic and nonsense of the Albuquerque rally earlier in the month. They always have the Taos rally the last weekend in October, and usually get about 30 balloons or so. All are welcome (free), but we launch around 8 am (just after dawn) so be prepared for early hours and dress warm!
The freeze killed the leaves in the area, but in the Rio Grand Valley it was warmer, and we were treated to some late fall colors on our way up and back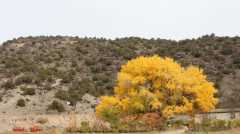 Tom