Cast iron is great but I have to be honest, I'm not completely sold on the idea of using it for compact trailer camping. Maybe it's the backpacker in me. Okay, it's heavy.
But this tiny 1qt Dutch oven by Petromax weighs just 6.6lbs. It's a fun little cooker and is especially suitable for side dishes, corn bread, and cobblers; or even a light meal for two. This little Dutch oven has earned its place in our galley.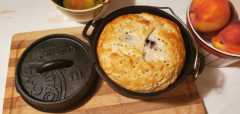 Here's a link to this compact Dutch Oven:
https://amzn.to/3v4Imkz
Simple Camp Corn Bread:
1 @ 9oz can of corn (I use the same small can as a measuring cup below)
1 @ 9oz can of Cornmeal
1 @ 9oz can of Bisquick
1 shot of veg. oil
1 egg
1 dash of Salt
1 dash of Red Pepper
Add milk to thin as oatmeal
Butter the Dutch Oven liberally with margarine (butter will burn) and dust well with dry cornmeal
Spoon in the mix, cover and bake @ 400F for 30 minutes. We set it on a small patch of coals and pretty well cover the lid with them.
It takes some experience to learn how to use this oven. I think corn bread or cobbler is a good place to start.