This trailer is being called "MyAway" because it will be my way of getting away. My requirements are:
- Fits in the garage
- Storage area for a porta-potty
- Standing room at inside (front) galley
- Light enough to be pulled by a sturdy car/small pickup
The exterior footprint/dimensions will be made as small as comfortably possible while still meeting the requirements listed above. Note: Heights are rounded to the inch.
Exterior Width & Length....: 61x100"
Plus Front Ellipse..............: 6" at widest point (teardrop wannabe?)
Travel/storage Height*.....: 76"- roof hatch down (22+48+6")
* Add 3" for non-powered vent in down position.
Inside, the planned benches can be made into two cots or a full sized (or wider) bed. Parts of the bed platforms will become counter and table surfaces during the day. The front ellipse area will be used as part of the galley cupboard storage and for the electrical.
Interior Deck Measurements.: 59x99"
Plus Front Ellipse..................: 5" at widest point
Interior Height at Peak .......: 83" - roof hatch up (48+35)
Interior Height at Galley........: 78" - roof hatch up (48+30)
.......15" from Galley........: 73" - roof hatch up (48+24.5)
My penciled sketches don't photograph and upload well; so I drew a couple approximated ones using a felt tip pen. The sketch is rough and things may vary slightly as I build; but, at least this gives you something to look at so you can see what I am attempting to build.
The deck and chassis are pretty much done but I'm building the lifting roof before I build the trailer sides so that I can be certain that this will work okay. Having a lifting roof that opens from the front and having so much of the trailer's height fold in mandated some extra design work on my part. However, I am 'borrowing as many ideas as I can from Andrew's Compact 3 lifting roof plans, in this forum's design library. (We are very fortunate that he has chosen to bring his knowledge and abilities to this forum!) I have emailed many questions to Andrew, who is always considerate, kind, and patient in his answering. It would be impossible to thank Andrew enough for his help and his gracious responses. I've got my fingers crossed and am hoping I can build well enough to make you all proud. More pictures are in the album.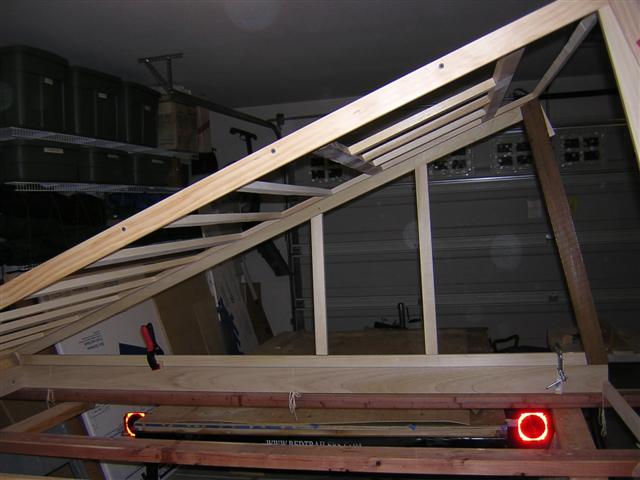 Edited 01/01/10 to fix errors caused by a system conversion/ move.