Here are some of the original post pictures for this thread, I'm working on it slowly.
Last weekend I found a trailer. It's a used flat-top which spent its early life hauling go-carts to and from a track. It came equipped with a front tool box, fuel storage tray, chrome rims, and an aluminum diamond plate deck. It's in very nice shape but is very "stout" with industrial-duty scantlings. It has a 2,000 pound axle rating. This evening after work I started stripping the deck. I'll use it to make side trim and rock guards, once I finish the build. At this point, I'm hoping to have things done in a year or two, just have to see how it goes with time & money. Here it is as purchased.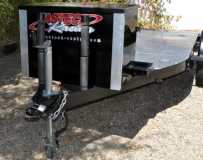 Here's the frame with the deck removed. The sides are 4" x 1 1/2" channel, bent to a curve, instead of the more conventional rectangular box frame and "A" frame tongue. I'm going to keep an eye on weight, but the front tool box can serve as a battery box and general storage unit. If balance isn't right, I can always slice it off and do things differently. Just not sure how weight distribution will go. Before stripping the weight it's 110# front & 250# at each wheel, a tank.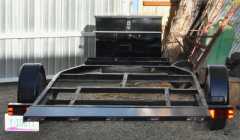 Everything's a compromise, the 13" rims are smaller than I would like and the frame is too heavy, but I couldn't pass up the price ($650), especially after looking at material costs to start from scratch. The frame has a widest-point dimension of 60 1/2" up at the curve, so the deck needs to be a hair wider than this

. My target for a rolling weight is 1,200#, so the heavy frame starts me off at a disadvantage. The frame with aluminum diamond plate was 610# (a beast, but strong like buffalo). The aluminum weighs in at 65#, so right now I'm down to about 545#. The 1/8" diamond plate is selling now for $270 for a 4x10 sheet, so I guess I did OK on the purchase considering the strength.
I might take a few more pounds off, because some of the steel straps they used as "shim" stock on the build for a flat surface under the deck (the two center cross members in the above shot) are solid 1/2" x 2 1/2" steel. There are are 2 pieces 3' long each in the center, so that's 6' at 4.25 pounds per foot or about an extra 25# of weight I don't need for strength at that spot. Judging from the build, it must have come from a shipyard or heavy equipment manufacturer in Taiwan, where the ID plate shows it was made.
I do have a question for anyone who knows springs. With the two leaves as shown in the picture below, what am I looking at for a weight capacity? Best guess does 2,000# sound about right? Springs are 24" long x 1 3/4" wide stock. There's only about 2 1/8" of clearance between the axle and frame now, with no weight on it.
I'm getting a couple of stabilizer jacks next week, and will have a friend do a bit of welding prior to the build. The back deck (fantail) wasn't done properly, so that will be fixed when the jacks are installed. It looks like an after-thought, not the original build. LOA is 122", back of fantail to center line of axle is 52" or 42 percent, so I might need that extra weight up front.... Thanks for looking.
P.S. Decided on a name for the trailer, in honor of "Dude" our box tortoise. My build pace should hopefully keep up with dude on a hot summer day. Dude sleeps from October until it gets back to about 100 degrees (end of June or early July). He's well known here in the 'hood, likes cherries, BBQ chicken & hangs out with the cats waiting for a meal in the evening on our front porch. His table manners leave a bit to be desired when he gets excited. Here he is eating a cactus fruit with great gusto.