I have been reading build journals lately and it has inspired me to finally do one of our build.
I had not done one at the time we were building,
1) I wasn't registered on the forum at that stage.
2) I was flat out during any spare time trying to get our TD built in time for a trip we had planned.
The reasons we decided on a TD are already mentioned in my newbies posts, so enough on that for now.
http://www.tnttt.com/viewtopic.php?f=40&t=56573
Time was getting by! We had to be in Wellington (850km/530mls away) on the 11th Oct to catch the ferry to the South Island, early on the 12th. The plan was to leave home in the morning on the 10th Oct, with an overnight stop part way down the North Island.
Before the 1st July, we had no thoughts about a teardrop, or even what one really was.
They are very few and far between in NZ and we had already lost a couple of weeks looking for a ready made TD.
Day One: 19th July 2012. I picked up the steel for the chassis frame, and a drop saw from the hire centre. The axle had arrived, it is a Dexter that a guy in New Plymouth is importing, it was about half the price of the local equivalent.
That night I started by cutting the steel and laying out the frame. I was using 50x50x3mm (2x2x 1/8in) Galtube. Ready Galvanised box section.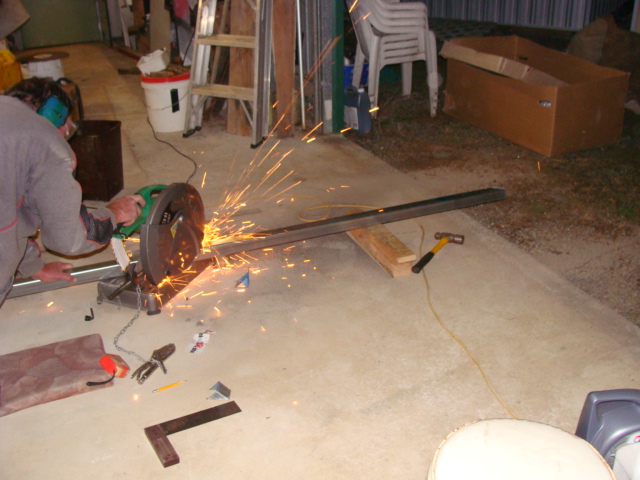 Day Two: 20 July 2012. That afternoon I welded the main part of the frame, added gussets to the corners, which I also used to bolt to the TD floor, then ground off the welds to tidy things up.