Thank you again, KC!
Switching topics, I have some questions about the camper's electrical system. Again, I'd like to get the details worked out ahead of time before I do any of the building.
I'm probably going to be doing a good amount of boondocking, but will be at campgrounds with electrical hookups sometimes as well. Because of the boondocking, I would like to run two 12V deep cycle batteries in parallel. I have a good quality charger that will be installed in the trailer, that recharges and tops off batteries automatically when hooked up to shore power. The charging unit also has a special 3 Amp DC circuit for running accessories while plugged into AC power, so they do not put a load on the batteries.
So, it looks like I can run three main circuits:
1) 120 V AC directly from shore power.
2) 12 V 3A max from the batter charger's special accessory terminals.
3) 12 V higher amperage from the batteries themselves.
Here is a sketch of one way I could hook things up. Thoughts? Questions? Potential problems?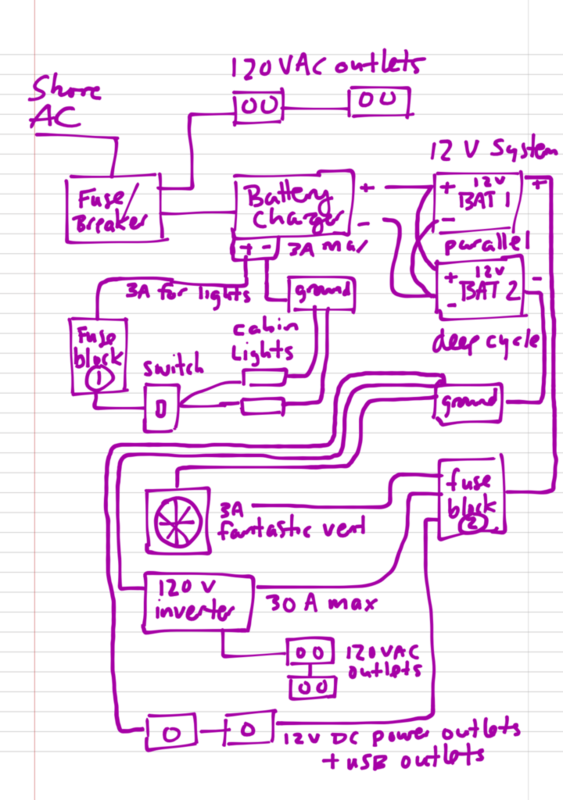 My Questions:
I have a set of 120 V AC outlets that are powered from shore power. In my diagram I have separate 120 V AC outlets powered by an inverter hooked up to the batteries. Should I keep these circuits separate from each other or is there a way to have a switch that directs the input to all the 120 V AC outlets as coming from either the shore power hookup or inverter? What kind of switch would that be? It would be nice not to have duplicate outlets on the wall.
I'd love to have Air Conditioning and Heat, but I'm assuming both would need to be connected directly to shore power because they would be too much draw for the 12V system. Am I correct in assuming this?
Thanks!
Lauren