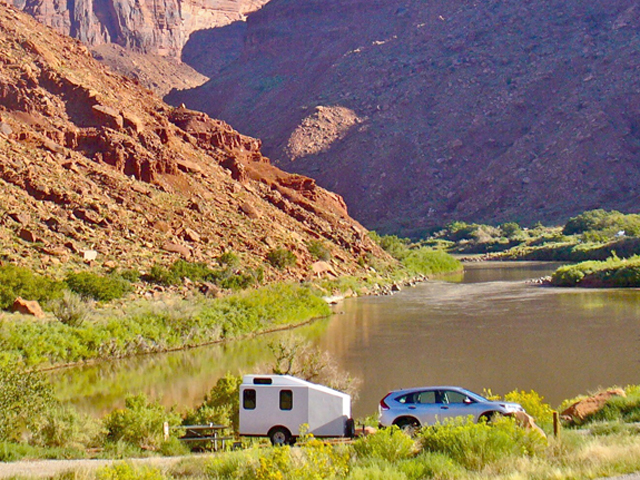 INTRO:
I joined after viewing the TnTTT site for several years. I decided to build a lightweight Camper. I had liked the
Compact 3 Design by Andrew Gibbens, and I had followed the build by S. Heisley. I decided to do my own variation.
I contacted Andrew and he shared his load, and moment calculations. My loads would be lighter, but the lever arms
would be about the same to locate the axle. I used the same specifications for the axle, and it works fine.
In my design variation, I stretched the cabin length 6 inches to get a bigger galley. I battered the nose to give a low
frontal area and decrease wind resistance. To keep the profile low, I added a footwell in the galley. Instead of a pop
up top, I designed a trolly top. Standing headroom is six foot in the footwell. I designed the overall height to be 7
foot, but when the actual load came in 300 pounds lighter than anticipated, the actual height is 7 foot 1 inch. I used
high speed highway radial tires, and put in electric brakes per Andrew's recommendation.
With Andrew's information, I developed my detailed drawings. To accomplish a light weight and aerodynamic shape, I
needed detailed shop drawings. I ended up with eighteen 8 1/2"x 11" drawings. The final trailer, fully loaded to go on
my trip, weighed 1,240 pounds. The tongue weight was 135 pounds. It glides down the road fine. I can go super high-
way speeds, and it only knocks about 9MPG off my Honda CRV. I took it on a 10,000 mile cross country trip last year,
and I'm planning another 8,000. trip shortly.
I will follow this INTRO with posts on the stages of construction. There will be construction comments for each photo.
To best follow this BUILD JOURNAL it would help to find the .pdf files for the eighteen 8 1/2" x 11" drawings. They are
located in a post from MIKESCHN, Site Admin, on June 25th of this thread. They follow my number 46 progress photo
that was posted on that same date. If you click on one, it will open up for viewing. If you print them all out, you can
follow the details of the construction photo comments.