The caravan has been in use for over a year. Sorry to be away from TNTTT, been busy and there was a technical hitch with my phone...I felt I couldn't post without pictures, words are not what TnTTTers seem to want. Anyway, we have spent about seven weeks sleeping in the van on beaches, in forests, on carparks and on the side of a NZ volcano for skiing. It seems a good execution of our design.

Lightweight, easy to tow (a 1600cc petrol car can pull it, although we use a 2litre diesel mostly), quiet, practical and warm, runs on solar (including a 10 gallon fridge

), fully lit and with charging and power points in each bedhead. We designed and built a wood burning stove and put it in but with all the insulation, hardly need it even when the outside temp is below freezing on our skiing trips. The decor, wall coverings, flooring and furniture are still a work in progress. We mean to sand and wax the walls, there is some water staining from when it rained before we put it together...it was built outside for lack of a workshop. (we are now building a 210 sq m workshop).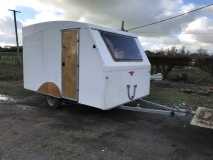 In this photo, you can see the chimney, which is removeable for the summers (as is the stove, held in by four butterfly bolts), the fully insulated skinned and weathershielded door with lock and deadlocks and the wheel arch covers, which are simply screwed onto mounts attached to recessed galvanised wheel boxes inside the van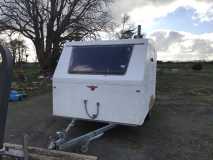 The window was second hand, top hinged, $100. The hose is for an external grey water tank, we have a 20l internal grey water tank and a 40 L external grey water tank. 20l cpacity will last us three frugal days.
You can see a towball for mounting bike racks, and a bar for taking other loads and tie downs which is through bolted to the bunk supports. The white cap is the fresh water filler. (There is pressurised water)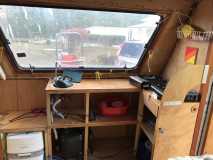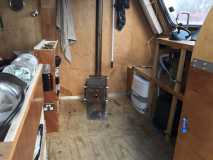 The kitchen and toilet. We have a Motor Caravan Association self-containment certificate covering water supply, grey water and toilet. This allows us to sleep in places where it is illegal to sleep in a non SC van, eg, some city streets.
The stove, a bedhead vanity (perspex fronted shelves, very handy, with the circuit breakers on its side). I can provide a design for the stove if anyone wants one...I welded parts but designed it to bolt together. The steel was repurposed from a magazine rack! Total spend was $15 for stove fittings and $100 for a stainless flue. I brazed a stainless fitting for going through the roof and an insulated aluminium cap for the summers.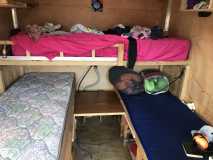 three bunks, two with full thickness mattresses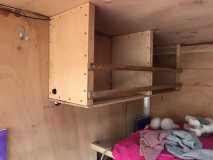 storage bins (there are four) with perspex fronts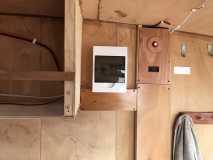 240v electrical services run in the wooden trunking. We have an electrical compliance cert. The small meter is the battery charge indicator, the light switches are all illuminated and we have seven lights, it is a luxury to be able to adjust the lighting to suit what we are doing.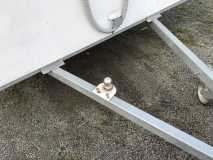 As designed, we fitted towballs front and rear to take towball mounted bike racks. This one takes a table for picnics, too. The plates are drilled and tapped into the frame, didn't want to weld over the galv. Plates are 5mm but such is the weight, leverage and shock load, should have been eight mm.
Happy days, Tnttters! There's people on this site who know a lot more than I do, but my advice to anyone hanging fire on a project and looking in here is for advice is, self-designed and self-built are two different roads. Stick to self-built unless you are used to hard roads. But if you do the hard yards, you get more than the average joe gets. Much like in life, I suppose. If I can help you, I will try.