I a couple of days I'll be starting build of the next camper. This one is a short WB early model Sprinter. Low milage with little to no rust which is a problem in my area for these.

Here is the inside in its current form.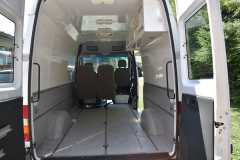 The second row of seats are being pulled out. With just the wife and me. They take up extra room. This being a SWB van you need all you can get.
The bed will be placed along the driver side running length ways in the van. Theses van is only 65" wall to wall inside to intside. With me being 6' that is a little tight.