I started a thread over a year ago showing all my foam testing and boat building. This thread will just be for the Mercury camper build. You can skip to the end here
https://www.facebook.com/media/set/?set ... 91420c25be
I started with a free pop up. It was the perfect donor, infested with mice, repaired, then infested again, the PO just needed it gone.
I then stripped it down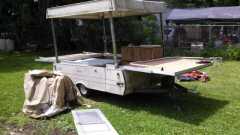 and found a bunch of goodies.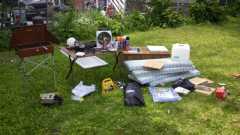 leaving me with a nice frame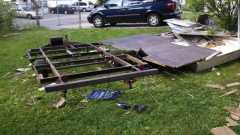 I would recommend if you are offered a choice of pop ups, go with the coleman, they seem to have the least amount of wood in the build, making it much easier to get rid of the scrapped remains. I got about $30 at the scrap yard for the steel and aluminum removed from the pop up. I scrapped a starcraft a few years ago, and was left with quite a bit more wood to burn.