Re: Folding Foamie Camper a la Casita or Esterel in the Work

Posted:
Fri Aug 06, 2021 10:16 pm
Took a while to get around to posting about the maiden voyage. It went well! Fun, short first family camping trip. We went to Anthony Chabot Campground which was really nice except for the abundant poison oak (cut back pretty well in the camping area and on trails, but pretty much covering the hillsides). Tough to keep two young boys from tearing through the woods, but we had a lot of fun riding bikes, making s'mores, doing a little fishing on the lake, etc.
One thing that I've ordered is a set of 4 bigger leveling bolt-on jacks because with the two smaller ones I took the camper definitely shook a bit when any of the 4 sleepers inside shifted in their bags.
Here it is hitched and ready to tow: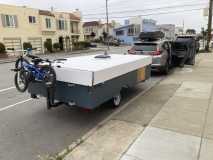 Set up to camp with nice lighting: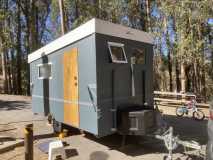 Another site shot: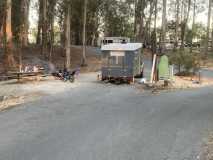 Tearing down camp:
Storage/hauling of gear when folded up:
A few quick questions:
Do you leave vents open or closed when storing your campers?
Do you take out the mattresses?
Any general storage tips?
I bought a fabric pop-up cover that I'm going to use because we tend to get a fair amount of rain, and I'm planning to stash a Damprid canister or two inside between trips. Thanks to everyone for your support and ideas throughout.
Still to do, but no rush:
1. Install a support beam across the roof (on the inside) to prevent roof-sagging. Cut an optional support post that can be wedged in between the beam and the floor if camping when heavy snowfall is expected.
2. Make a folding heat shield for the wood-burning stove and burn in the stove itself.
3. Install the diesel heater and battery in the tongue box.
4. Possibly cut 6 inches off the tongue to make it easier to park on the street.
5. Install the bolt-on jacks.