Hi Everyone,
I'm new to the forum. I'm a landscape painter mostly. I travel from Memphis to spots around the South, painting on location, camping usually. I'm somewhat enamored by real horse drawn Vardo's, the woodwork, curved ceilings, character. I like the idea of having a wood stove, and being able to stand up inside. But I would like to see out the back of my Honda Element when rolling down the highway. So this is a conceptual study of a fold down wagon. Here's one that was done on a smaller scale:
https://tinyhousetalk.com/modern-bicycle-micro-gypsy-wagon/
by Barry Howard Studio.
Dimensions are 5x8 ft. in plan.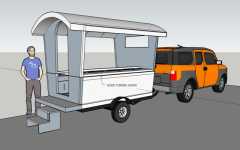 Sides down
Ends fold down, then top lowered down somehow, maybe pulleys/other
The other options are:
1. A Teardrop
2. Gypsy/Nomad wagon or bow top that doesn't fold
3. Convert the Honda Element to camper. Need room for paintings though.
4. Telescoping wagon, where top half slides down over bottom half, using cables and pulleys, or gas springs.
Any thoughts?
Thanks,
Matthew