Just a short summary of my recent trip with my new foamie.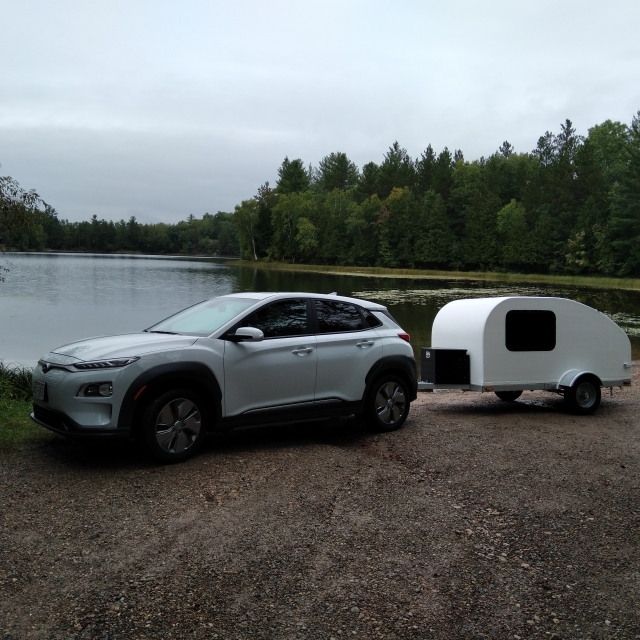 I haven't weighed the trailer yet but I am going to guess it is between 750 and 800 lbs. My tow vehicle is a '21 Hyundai Kona Limited Electric with "normal" range of 250 miles. Towing defiantly effects range and YMMV. It was a 900+ mile round trip through Michigan's UP and down to Muskegon, MI for a music festival. I started at 100% and after 52 miles stopped at a DC charging station to top off. If you know anything about EV charging then you know that most EVs will slow charging way down when the car battery is 80%. So after about 40 minutes I was back at 85%. I attempted to reach St Ignace which is about 150 miles. there were no DC chargers until I crossed the Mackinaw bridge. When I arrived in Naubinway I knew that I would not make it to the Straits State Park for the night so I stopped at the Top of the Lake Snowmobile Museum where they have a NEMA 14-50 outlet and they allow EV charging if you make a donation. After about 45 minutes I had just enough in the battery to make it to St Ignace. Overnight I plugged into the campsite's 50a NEMA 14-50 and had a full battery in the morning. The rest of the trip to Muskegon provided much less range anxiety as chargers are spaced somewhat close. Returning via mostly the same route I knew I was going to be staying at the snowmobile museum for an extended time since I had to get to Escanaba before seeing another DC charger. It turned out that wait was about an hour and 45 minutes before I felt confident that I could get there. To ensure my arrival I pissed off a number of drivers as I cruised at 55 all the way on a mostly 65 MPH route. Luckily, US2 on a Sunday evening is quiet and most people passed without any oncoming traffic.
FYI for those unfamiliar... A DC charger is high Direct Current and ranges in "speed" anywhere from 25 kW/hour to 350 kW/hour. My car's charging maximum is 72kW so is unable to take advantage of the higher capacity chargers.
So the bottom line is I went from a non-towing range of 250 miles to a towing range of under 175 miles. The slower I go the better the range. I'm "happy" with that result as I read some horror stories about towing reducing EV range by 50%. Of course they are towing what I call mobile homes (big RVs) not what I (we) usually pull.