I've been planning a folding caravan that will be very lightweight, under 1000 pounds with the trailer. I decided to build a little model to test out the idea. Building the model revealed some issues that will need addressing. It's interesting to see it in physical form instead of on a computer. When the sides fold down they have to be stacked, which means they'll have to be offset.
The purpose of it folding down is so I can see out the back of my car, plus reducing drag.
Here's a video…
[youtube]
https://youtu.be/W3vUmsK7ga4
[/youtube]
Here are some of the drawings I posted in the Sketchup forum.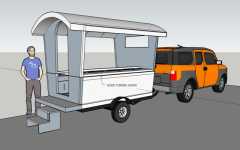 If I don't do the fold-down design, I think I might just build one that's full height, maybe with a bow top like a sheepherder's wagon. The full height caravan could have the kitchen inside…
Have any of you built something that folds down?
Thanks,
Matthew