I put together the HF trailer in March, and bought 5 sheets of 1/2 inch plywood in preparation for starting the rest of the build. But then the Foamy topic really started heating up, and I spent too much time reading to do any building of my own.
I need a light build, but I want something for two growing kids and me. I had already decided on bunks, so I needed some extra height for the upper berth. The teardrop plan became a standy, and heavier. So the more I read about building with foam, the better it sounded.
The plywood I already bought is being put to use as the floor, so far. I don't have a garage, and we have been having a WINDY spring that has made working in my parking pad nearly impossible, so we moved into my step-dad's garage while he was out of town. The trailer itself is my work surface, so you'll see the original 3/4 ply deck under the floor. That deck will be removed, probably this weekend. My step-dad gets home tomorrow, so we moved everything back to my house. I thought it was all tied down well, but I got home from work today and found my roof foam blown all over the yard. I can cut around the dinged edges, fortunately.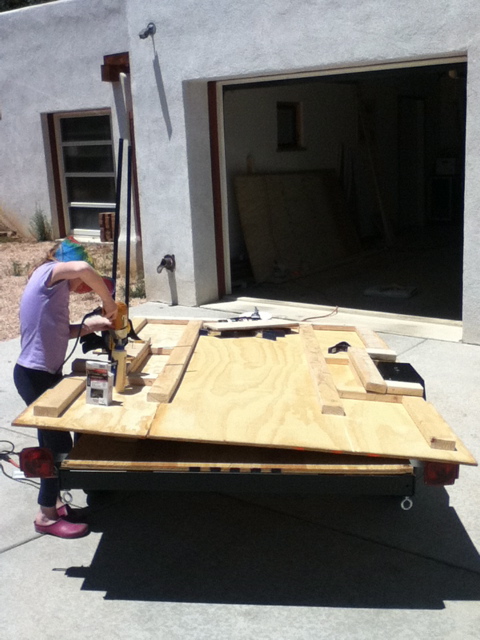 Here Patsy is working on the wheel well. I'm doing a single layer of ply for the floor, the wood is for structural support since the sides overhang by 8 inches. And the wood will also be the base for the side benches--2x4s on the floor, but 1x2s and more of my 1/2 ply for the benches/bed.
Ricky would rather be the foreman than a laborer, but he helped us flip the floor (twice now, in fact) and screwed and glued when threatened with being exiled to our old tent if he didn't!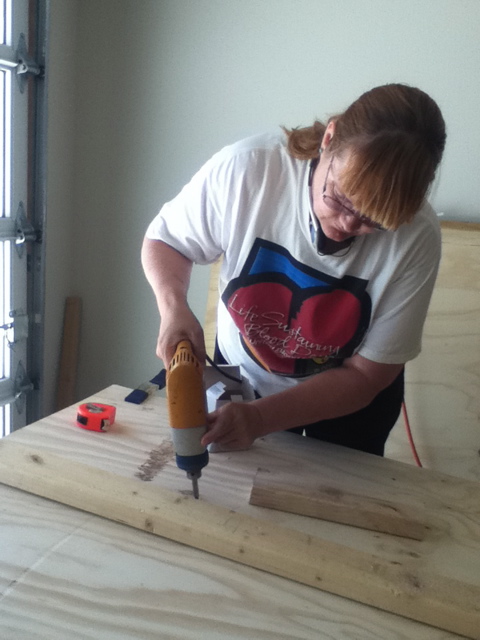 Me too.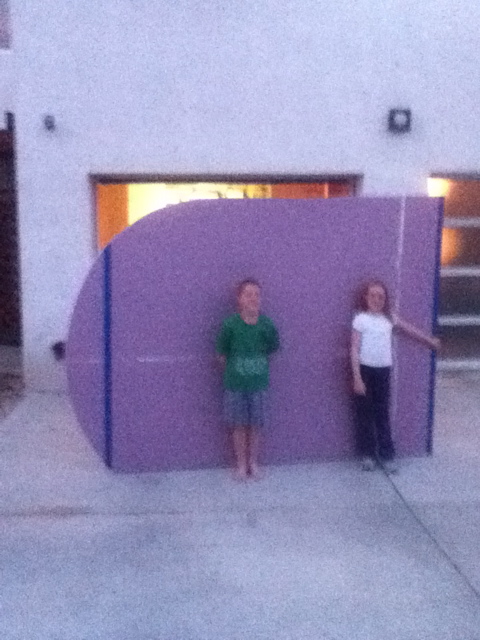 Here's a blurry iPod picture of the profile. I have taken better pictures with the iPod, so I think the gathering dusk affected the focus. It looks BIG. I'm thinking I can take the front down half a foot and still have room for the sleeper's feet in the bunk. The back is just over 6 feet high, planning for 6 foot campers (like dear son in a few years).
Since I am now working outside again, I probably won't get anything else done until Sunday. The wind is supposed to go down by Saturday, but of course I will be at my paying job that day.

Catherine