Hi BobHenry,
I finally was able to find the info I wanted to pass along to you
for consideration/inspiration as you design your Caboose styled
portable Tiny House.
I'm a fan of vintage trailers and house trailers as well as TDs &
TTTs. My all-time favorite type of vintage 1950-60s House
Trailers are the Double Deckers [DDs]. These were a creative attempt
to provide more living space within width and length and height
restrictions before the width and length restrictions were increased.
Some designs were more successful in their attempts than
others, but all are interesting and can give you possibilities to
consider. I've personally been in 5 different Double Deckers over
the years, of three different makes. I've also, for research purposes,
gathered info over the web over time on whatever info I could find so far
on DDs. I'll post some pics and links of those that I think may be of help.
You'd mentioned of possibly making some kind of dedicated/permenant
bed that you could raise, when not used, and lower, when needed, and
such. I offer that it'd be less complicated and less work to build a loft type
bed, accessable by stairs and it'd probably easier to use too. For this I'd
just frame the bed base, and the ceiling below, in angle iron or 2in steel
tube, for thinness with strength and then cover with your choice of bed
base and ceiling panels to cover it.
Here is the very ingenious Lighthouse Duplex from IL, @1951-53. It was
@ 8ftx28ft body size and 11ft6in high per their brochures. It had 2
"upstairs bedrooms" and a rear kitchen: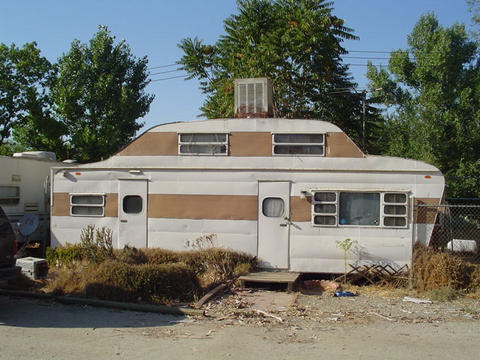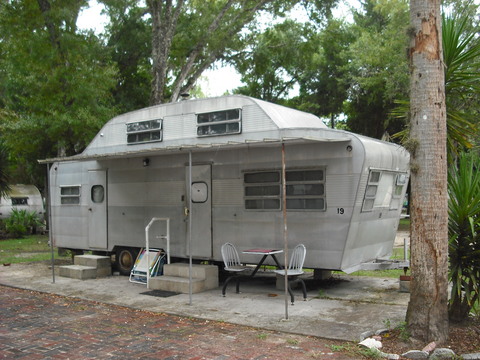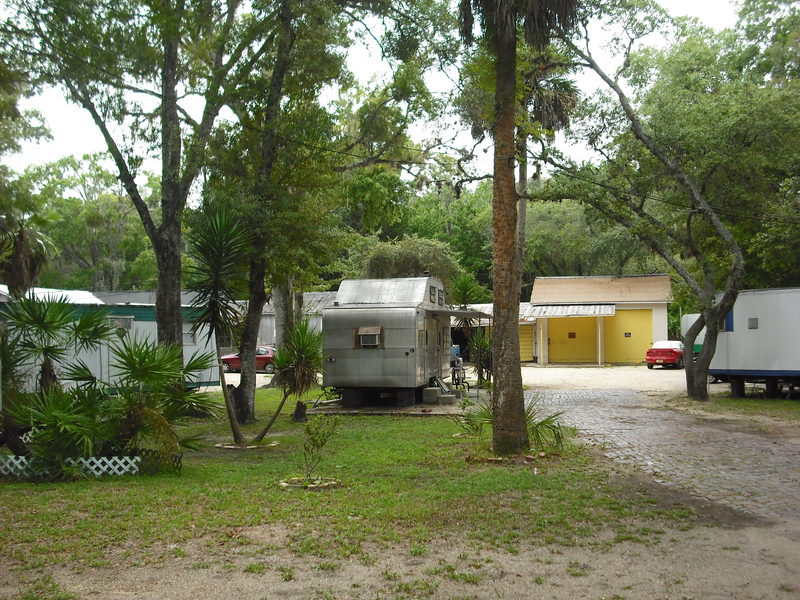 A great Lighthouse DD web site with pics on one as found:
http://www.cannedhamtrailers.com/lighthouse.htm
I had also run across an old article, where a retired guy in the 1950s built a
copy of the lighthouse, for all intents and purposes, as his retirement
home. Unfortunately I can't locate that though.
NEXT:
Here is an evidently one-off Travelite from TX, @ 8ftx26ft body with a rear
bath @mid1950s: It had 2 upstairs sleeping spots under the raised roof
section. It wasn't as sophisticated as the Lighthouse in that area. I
believe the "TruelyVintageTrailers" web site has a few more pics of this.
It won't come up at the moment so you'll have to enter/Google that to
see them. Here are a couple: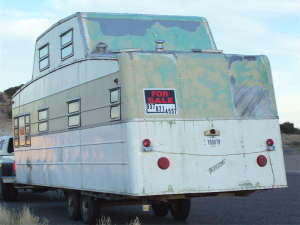 LASTLY:
And lastly, here is a very ingenious 1951 UK Caravan, the Falstaff
Knight 50 by the UK builder, Coventry Steel Caravans [even though
it is built of aluminum extrusions]. I found it on the great Australian Vintage
Caravan site "Our Touring Past". This post is for a single level Silver Knight
15, but at the end of it is a brochure page for the Falstaff Knight 50, which is a
DD. The posting shows the unusual construction and design[s] of both.
http://www.ourtouringpast.com/forum/vie ... f=14&t=480
These are very unusual looking, but they grow on you once you see what
they are all about. The designer was way ahead of his time. The Falstaff
has drop floors, front and back and and 3 "upstairs" bedrooms. A double bed
up front and two singles in the back, each in its own "room" and 3-4"'staircases"
to reach them! It also has a dropped floor entry step with a dutch/stable style
entry door.
Here is a pic off the brochure on the 'Our Touring Past' site of the Falstaff
Knight 50 model. [this shows up at the end of the posting.] Someone had
imported the Silver Knight 15 into Australia evidently, and due to that, we
ultimately have this information.
Pic on the web [easier to magnify to look at.]:
http://www.ourtouringpast.com/forum/dow ... 4&mode=vie
Here's the above pic:
My thoughts are:
Using the max dimensions of: 8ft6inW x 13ft6inT x 2XftXinL You could:
Put a usable bath across the back [@4ftx8ft min], or reuse the 'wreck's'
bath, then locate the cupola of the caboose 4-5ft in from the rear. That'd
be over your bed area. You could have a 5ft wide Queen bed centered
on the width. That'd allow twin stairs, of 12-18in width on each side for bed
access. The twin stairs - one for each bed occupant - would allow
individual access to each side of the bed. That'd avoid the 'crawl overs'
and make bed making much simpler. Under the stationary raised bed
platform is room for a clothes & storage areas and a "dressing area"
adjacent to the rear bath. I don't know your heights, so interior height
dimensions would depend on your individual height's required clearance.
Each individual stair and sidewall "aislette" in the raised bed section can be
built to make access to the bed at a comfortable height. Undeneath the
side "aislettes" on each side would be storage areas you could combine
with the under bed and dressing area storage or perhaps have exterior
access storage - a lot of ways to do it. This'd all only take 10-12ft of
length. The remaining length of the total length would be available for
the galley and living areas.
Another thing to consider adding, to enhance the living area, would be bump
outs [side cupolas] on both sides to add extra 'elbow room' and interest. These
would be a takeoff on the side bump-outs you see on some of the newer
cabooses - no reason you couldn't combine top and side 'cupolas'. You could
make them be able to swing inside the legal width for transport. Make the bottom
of them start/allow for the correct comfort height for seating. or build in a storage
seat in them if the bump-out/bay/side-cupola is full height. They could then be
used for a dining nook seat or a true window seat in the living space.
One thing I think all the tiny houses I've seen on the web lack is comfortable
access to the bed, especially for we "upholstered" older folks. Climbing a ladder
up to a low sloped roofed bed space doesn't match my reality. Individual stepped
access to a bed with a comfortable seating height and headroom above would
match my reality. It'd be super easy to achieve, I think, doing some version of
what I've tried to describe.
These are just suggestions to consider using. The Lighthouse and Travelite DDs
show the mid-somewhere located roof bump up has been successful, so just
shape it now to look like a caboose's cupola, and then do the rest of the lower
roof areas correspondingly.
'Hope I haven't put you to sleep! Ha! It's hard to be concise when you are trying
to explain things in a way that you hope others will be getting the info you're
trying to provide.
Happy designing. This will be an intersting build.
Cheers,
Norm/mezmo