A little over a year ago I stopped by to get info on re-doing my tear. My goal was to spend the winter in AZ. The wife and I were able to pull it off this winter. We loaded up the motorcycles in the pickup and headed out.
Spent the first night at Destruction Bay. It was just barely freezing out.
We saw some Elk between Haines Jct and Whitehorse.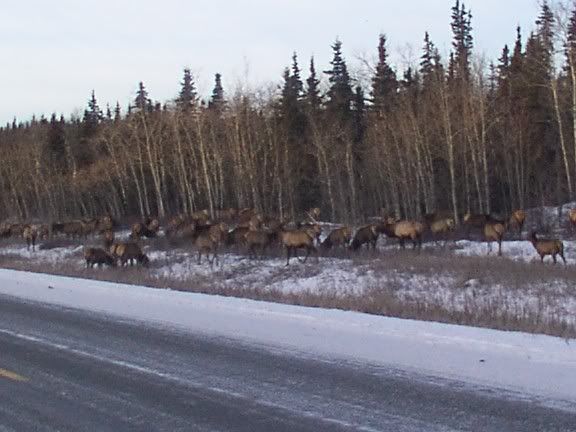 Spent the second night at Liard Hot Springs. Took a dip around 10:00 PM. Over the years we have stopped there quite a bit in the winter and it is quite nice. This time it was well below zero and we got cold. The top foot of the water was nice and warm, but is was colder down towards the bottom. This was the coldest night we spent in the tear. We used a Mr Heater to warm the tear up.....which it did a good job......we shut it off when we went to sleep. We have 1 sleeping bag rated to 60 below and 2 rated to zero and several blankets. Keeping warm wasn't a problem. BUT Moisture was a BIG problem. Got frost in the cabinet and our clean clothes stuck to it. The windows were froze open.....water was dripping from the vent. Everything was damp.
We ran the heater for a while to dry things out. Gonna have to do something to fix the moisture problem.
The campground at Liard is open year around.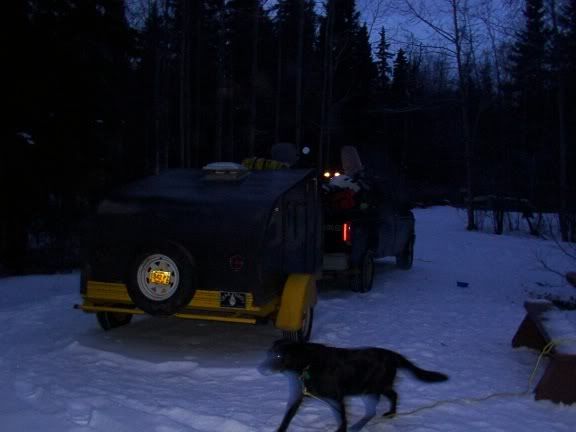 Saw a few Stone sheep......
To be continued.............