The wind is howling and the rain has been pouring for hours outside as hurricane Irene approaches and all I can think about is that I picked up the trailer frame for our teardrop this morning.
After over 2 months of searching, researching, agonizing, changing my mind, bugging you good folks and then changing my mind some more, I finally found a frame that had a pop-up camper on it in a previous life. I got it off of Craigslist for $100, and I couldn't be more excited. I think it's perfect and puts me on my way to the "bargain build" I had hoped for.
Lance had just put the trailer hitch on my Hyundai Sonata last weekend, which will be our tow vehicle, at least for awhile, so it was the first time we had pulled anything with the baby car. The trailer sits perfectly level behind the car and I was trying to picture how cute the teardrop would look riding back there.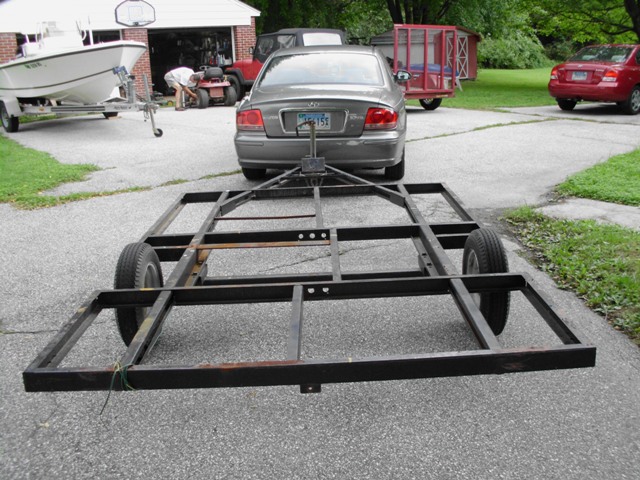 A few weeks ago I wouldn't have known a torsion axle from Axel Rose, so I don't know the particulars about this, but it does have a torsion axle on it which appears to be pretty heavy duty and looks to be in good shape. Of course we will take everything apart and service it and make sure that everything is as it should be.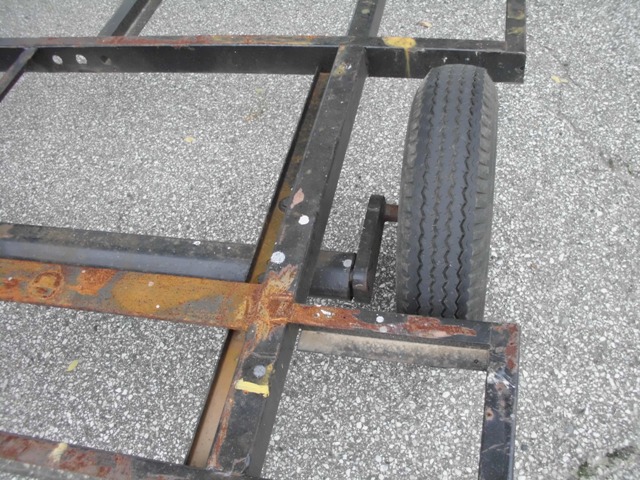 The trailer is made from 1-1/2" x 3" x 1/8" channel, very little rust, welds all look good. It appears to be a very substantial trailer, especially conpared to the HF. I am sure it weighs more as well. A-frame tongue
The frame measures 76" x 110". We appreciate the extra length, which will give us a nice deep galley without robbing us of length in the cabin, but don't want the weight or expense of a teardrop that wide so we will be removing the outriggers. There is also a nice support member right in the middle at the back which will give us a perfect place to weld a receiver for the bicycle rack.
After removal of the outriggers the frame will have an outside width of 52". A true full size double bed plus some. In addition there is 5" between the outside of the frame and the interior tire wall, so I can build with the walls outside and covering the frame, and add any covering or trim I wish without any worry of anything rubbing on the tires.
The axle is 48" (43% of the distance) from the rear. Not exactly ideal. But it is bolted on and once the frame width is reduced and the axle position is not limited by the wheel wells, it can be moved as needed. We do plan to put a tongue box on though, with a good sized battery in it, so I am not sure if we will need to move it. I will wait for all of you with far more knowledge to weigh in on that one.
The wheels are 13", 4 bolt. The tires have a good tread still but I have no idea how old they are. We will at least replace the tires with a nice high speed radial. Not sure about replacing them with bigger. I haven't done any research yet so I don't know how hard it will be to find wheels with the 4-bolt pattern.
We are avid bicycle riders and one of our favorite activities is searching out and riding the Rail Trails, which are usually beautiful, safe, serene places to ride and present an opportunity to see different places at a leisurely pace while getting great exercise in the process. We have many of them within a days drive of us. The teardrop will be the perfect sagwagon (in the bicycle world, s.a.g. wagon stands for "support and gear") for us. Therefore, that is going to be the name.
Thanks to everyone for the advice, encouragement and support you have given so far. And thanks in advance for the million questions I will probably bug you with as this build progresses. I can't wait to get started!!
Becky