Welcome to my build thread!
It is a large TTT, of completely original design. Much of my build strategy is inspired by other members here -- so before you begin reading, I thank you all for making this build possible.
The original design proved too large for the original (Harbor Freight 4x8) trailer, and was redesigned on a new chassis that I purchased on Craigslist. Therefore, my build really "begins" after this post:
http://www.tnttt.com/viewtopic.php?p=650242#p650242
My final design will look like this:
If you decide to start reading from below, keep in mind that my needs changed as time went by, and so did the build. At the current moment (as of June 19, 2011), I'm mostly winging the design from here on out. The project, like life, has become quite an adventure. Enjoy the ride!
The original first post begins below:
-----------------------------------------------------------------------------
I'm building a TTT roughly based on some 3d renderings I've been working with. My thread for much of the design is here:
http://www.tnttt.com/viewtopic.php?t=33684&postdays=0&postorder=asc&start=0
.
And my most recent render of the build is here: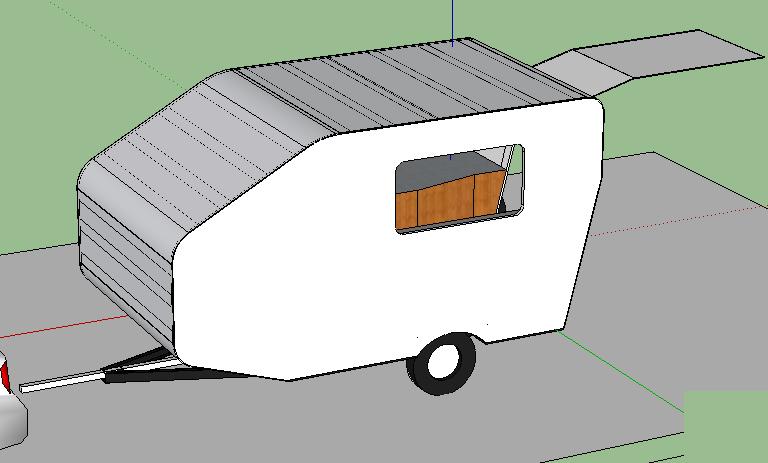 Goals for this build:
- 0 setup / teardown time
- Can haul our Honda Reflex (400 lb scooter) in the back
- Comfy for the pups during the day
- Comfy for us on rainy days
- Provide a safe, and sanitary place to bathe and bathroom
- Low weight
- Low cost
Time to get started! Welcome to my "workshop:"
Me and my fiancee live in a one-bedroom apartment in downtown Atlanta, near my work / school (Georgia Tech). We are still in college, and even though I work full time, it's still not enough for us to buy a house yet. The top floor of the parking garage in our complex is always abandoned and free to use -- but there are three catches here.
1) There is no power. Everything has to be either battery or hand-operated.
2) My final design will be too tall to fit through anywhere other than the first floor of the garage. Therefore, the build will have to be made in modular pieces, so that I can tear it down, take it out, finalize assembly off-site in an abandoned parking lot, and finish the exterior -- all in one day.
3) Obviously the leasing office will get mad at a half-finished trailer. Every day I build, everything has to be torn back down flat, into a neat pile to store on the 3rd level of the garage, in one of our parking spaces.
Build day 1 (Nov 2009)
I purchased and assembled the chassis.
Build day 2 (Nov 2009)
Flipped the axle to drop height, went to scrap yard and got a tube to extend the frame outwards.
Build day 3 (Nov 2009)
Installed frame extension. Painted most of chassis black, including the extension, hubs, etc.
That brings us to last week, when I finally started taking pictures!
Build day 4 (Jan 28, 2010)
Finally, it was warm enough to work last week, if only for a day!
On day four, I decided it was time to get going on the floor and subfloor. The floor is 3/4" plywood with a 1x3 subframe to allow stiffness and sturdiness for the 16" overlap on each side.
Here's what I'm working with: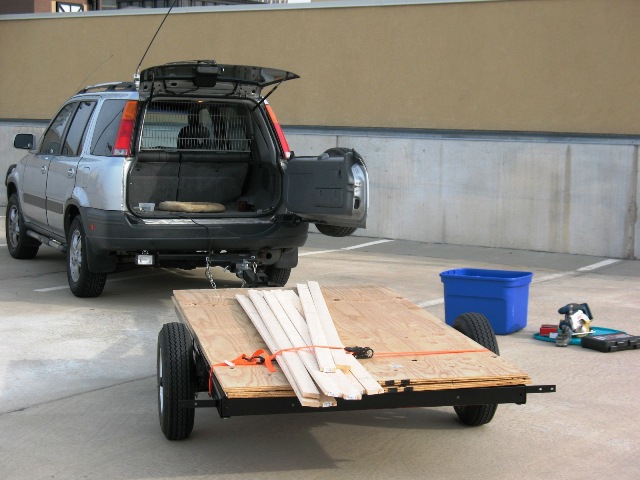 I took everything off the frame and took a few pictures to give you guys and gals an idea of what went on for days 1-3. Here's the frame in its complete (other than lights) form:
The pup is our first pup, Maddie. She's my running buddy, hiking buddy, swimming buddy, and even rides in my backpack when I'm riding the scooter (her head out, and her tongue flapping in the wind!). She goes almost everywhere with me.
Back on topic, here's a close-up of the tongue extension:
In addition to the 16" overhang on each side, there will be 3' (yes, feet) of overhang over the front and 1' overhang off the back. The extension will add strength and allow the front overhang without jacknifing. Don't mind my paint job... I ran out before I was able to paint the areas that wouldn't be visible

Here's another view of the extension: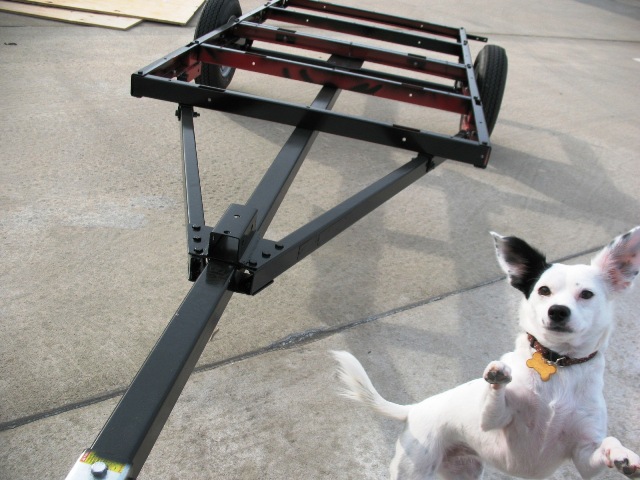 Apparently Maddie wanted to be in the picture too...
Time to get down to work. Using the plans that I've drafted in sketchup (they reside in my brain as well), I sketched everything out before cutting for a sanity check: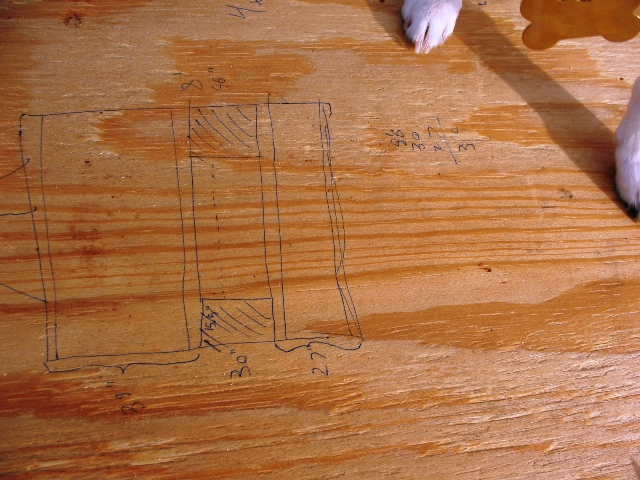 And hacked away. A couple of hours later, here's our end result:
I parked the trailer back in its home on the 3rd floor, and came in and enjoyed a few pints of these:
...and eventually came up with this: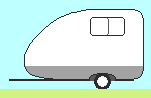 The above is a freehand sketch from MS paint of what the curvature of the trailer will be like. Don't be fooled by my blocky sketchup drawings; they're just me getting my ideas straight. This trailer will be a nice, curvy shape.
I also finalized the interior layout. Here is a pic of that: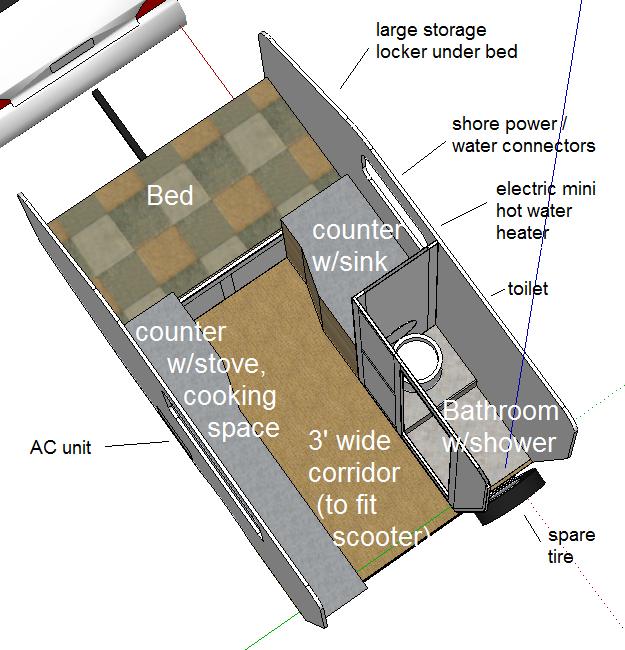 On Build day 5, I'll tar the top and bottom of the floor. Build day 5 will come around next time we get warm weather here (hopefully tomorrow). It is freezing outside again today!

I haven't come up with a name for our trailer yet, so suggestions are welcome. Oh, and thanks for reading!